I don't know if I read the same way other people do. But I've been thinking lately about the way I read and what I see and pay attention to in the text of books. (And what I miss.) And I have realised something about myself.  I am still working on the why, but here's what I've got so far.
I think I have a "default hero" and a "default heroine".  I know that typically, blond heroes on covers do not sell as well as dark haired heroes. Maybe that's why Mr. Default has dark hair – it's what I'm most used to seeing.  Or maybe that is my own preference. But Mr. Default is tall (around 6'1″ ish), with broad shoulders, narrow hips and a six pack.  Ms. Default is less defined – in that I find it much easier to change her hair colour (is this the influence of book covers again?) but she, typically is around medium height, edging into tall (maybe 5'7″ish), slim, with a nipped in waist and a nice (but not huge) rack.  If I'm reading a book where the characters aren't particularly well defined, Mr. and Ms. Default step in.  It's also true that if I'm reading a book where the hero is described as very short or very tall or otherwise outside my "default", I tend to morph the hero in my mind. I "see" him in my head as around that 6′ mark unless the text doesn't allow me to.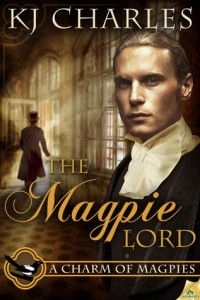 For example, in The Magpie Lord, my inclination was to make Stephen taller.  Unfortunately, the text kept reminding me that he was not tall –
He was incredibly unimpressive. Short, for one thing, barely five feet tall, narrow shouldered, significantly underweight, hollow-cheeked. He had reddish-brown hair cut unfashionably close, possibly against a hint of curls. His worn suit of faded black was obviously cheap and didn't fit terribly well; bizarrely, he wore cheap cotton gloves. He looked like a clerk, the ten-a-penny kind who drudged in every counting house, except that he had tawny-gold eyes that were vividly glowing in his pale rigid face, and they were staring at Crane with something that looked extraordinarily like hate.
I never felt the text hammered it into my head over and over again. It was not annoying. But, I could not see Stephen as anything other than the short man he was.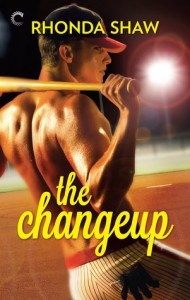 Mr. Default and Ms. Default (or Mr. and Mr. Default as the case may be) are usually relatively close in age as well.  That's my default.  So, unless the text convinces me an age difference is important, I'm going to picture the main characters as being similar in age/maturity too.  I read The Changeup by Rhonda Shaw recently.  The hero is 22 and the heroine is 34.  I didn't actually start off thinking that was a huge deal in terms of age difference (because, fundamentally, I don't think 34 is old).  But the text convinced me it was a problem.  It also convinced me (and I don't think it was supposed to) that the hero was actually too immature to be in a relationship with the heroine.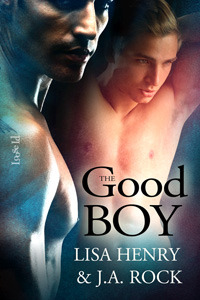 I also read The Good Boy by Lisa Henry and JA Rock shortly after.  (I reviewed it at Dear Author.) Derek, the elder hero was 37 and Lane, the younger hero was 20.  For some reason I didn't feel that the age difference meant anything material to them.  Possibly it was because the authors did a good job of showing that the characters related well to one another and that Lane was a mature 20 year old.  (He was certainly vulnerable but maturity is a different thing I think).  But, what if I merely inserted my default?  Did I round Lane up to 25 and Derek down to 30? I might have. I don't know.
I was discussing New Life by Bonnie Dee with a friend the other day.  There, the hero is a man who has suffered a traumatic brain injury.  His speech is slow, he stutters sometimes, he forgets or uses the wrong words sometimes and he swears more.  In the text, in the early part of the book, the slowness of speech and the stuttering are depicted with ellipses and dashes – s-s-s-s-ometimes I speak…. s-s-slowly.  That kind of thing. While I found it somewhat distracting to read, it also kept me in mind that Jason had a disability.  But later in the book, those textual clues were gone and I kept forgetting.  I inserted Mr. Default into his role and I was regularly jarred out of that picture by a textual reminder that Jason was brain-injured.  Was that a failure on my part? On the author's part?  I don't know.  But I noticed it.  (In real life, as you become more familiar with someone, such things as disabilities or accents become less of a focus. They are just "part of" that person. I think they become assimilated into the whole of the person one sees. Not unimportant, but not "other" either. They just "are". But that is not to say that the person no longer speaks with an accent – the accent is still there, I just might notice it less. A person who is blind still cannot see, even if I come to know them well.  Accommodations for that person – perhaps reading a menu aloud to them at a cafe – would become commonplace, unremarkable and made without forethought – but there's no miracle cure because of the power of love.)
Glitterland by Alexis Hall (one of my favourite books from 2013) has in it a character from Essex. His speech patterns and dialect are consistent throughout the book.  Brie from Romance Around the Corner didn't like it – she felt it played too much into the Essex boy stereotype and I know there are quite a few people that found the dialect difficult to parse.  It took a little getting used to for me (but not all that much) but I found it helpful to make Darian a distinctive character.  He never fell into Mr. Default territory for me.  There was just no way the text would allow any substitutes. So, for me, the dialect was helpful in establishing his character.  I had a different view from Brie. I felt the text was also overtly challenging my innate snobbery.  (Neither Brie nor I are any more "right" of course.  We just experienced the book differently.)
I don't know about anyone else but in m/m romance, I sometimes (often?) have difficulty working out which hero is which.  They kind of morph for me.  In an m/f book, one character is clearly female so that is a point of difference in my mental picture but in m/m romance, the main characters are of course, both men. (And let's not even start on what happens when there are more than two in the relationship.) If "Mr. Default" becomes both main characters, they look the same to me and I can't tell them apart. Is that what I'm doing? Am I doing it because I just like "Mr. Default" so much?  Or is there a failure on my part or on the part of the text to differentiate the two characters sufficiently?  I don't know the answer to that either.
I admit Mr. Default and Ms. Default are also white.  Is that because I am white? Is it because the vast majority of romance books I have read and covers I have seen depict white main characters? (I think it's probably both) Is this bad? Or is it neither good nor bad?
I read The Dom Project by Heloise Belleau and Solace Ames recently.  The hero is John Sun (almost always referred to in the text only as "John").  He is an American of Asian heritage.  I never felt his ethnicity was fetishised or overly highlighted in the text, but I also never lost sight of it.  For some reason – I have put it down to solid characterisation – John was always an Asian American in my mental image of him.  He did not become "Mr. Default".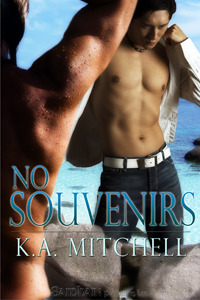 Dr. Jae Sun Kim is one of my favourite heroes, from one of my favourite books (No Souvenirs by KA Mitchell).  He was first introduced though in Collision Course and my mental picture of him was established in that book.  He is an American of Korean heritage and a doctor.  When I was pondering this post, I wondered if I found it so easy to picture a Korean in his role was because I know and have seen many Asian doctors?  (If so, shame on me). Or, like in The Dom Project, was his racial heritage so firmly embedded in his character that I could not see him otherwise?  Or, more prosaically, was it that he was called Kim or Jae Sun and the ethnicity of the name was enough to establish my mental picture?  If the latter, is that a good thing or a bad thing? Or is it neither?   That said, Shane, Kim's partner in No Souvenirs was always a ginger with a freckled back so maybe it was the characterisation.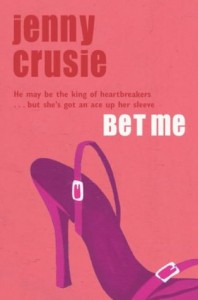 I realise all of the examples I've given so far are of male characters.  I do the same thing with heroines but I generally find it somewhat easier to fix their details in my mind (I wonder if this goes back to the hair colour thing on book covers?).  Nevertheless, if their body shape is different than Ms. Default, I often have this weird "instant Photoshop" of my mental image of the character – suddenly morphing from a C cup to a DD or an A, or growing taller or shorter.  I do tend to be a hero-centric reader and it is often the heroes that stick in my mind after a book, which is why, I think, when I was thinking of examples, they were the ones I remembered.  But, I think Min in Jennifer Crusie's Bet Me became, to me, more svelte than I think she was supposed to be textually (and I'm aware that there is a debate that she wasn't very overweight anyway).  And a "plain" heroine will almost always, in my mind, be pretty – before the makeover – and I think this is the same kind of thing happening.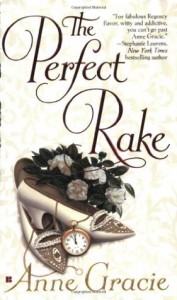 Even in Anne Gracie's The Perfect Rake, where Prudence is described as plain and never has a makeover, I think I was more sold on Gideon's view of her  (part of the charm of the book) – which was as the most beautiful woman in the whole wide world.  (Then again, I always though Lizzie Bennett in the BBC (Colin Firth) version of Pride & Prejudice was the prettier of the sisters, so calling a heroine "plain" and/or "the least attractive of the sisters" (such as in The Perfect Rake) has never really meant anything to me.  Again, is this just my default?  Or is this the culture where all the heroines are attractive having its impact on me.  Did I get my default from the culture? From myself? From my white privilege? Am I making the heroines pretty because it pleases me to see pretty things?  Or is there something more sinister to it?
Do other people have their own default characters?  Might this explain (at least in part) why, when two people read the same book, they might see something completely different in the characters?
Here's another question: Did I "create" Mr. and Ms. Default in response to a certain… blandness in characterisation in my reading?  In other words, was there a vacuum and Mr/Ms. Default was created by my imagination (aided perhaps, by pop culture) merely to fill it?  Or, do I "force" The Defaults into my reading for some (who knows what) reason?  Are they only not there when I find the text explicitly convinces me otherwise? Is this something I do every time I can "get away with it"?  If so, what does that say about me as a reader?
I've come up with a lot of questions but I don't know that I have (m)any answers. I plan to pay more attention to those questions when I'm reading and see what answers may strike.