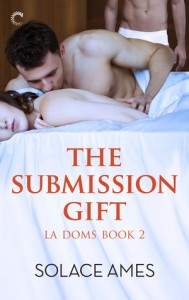 Why I read it:  I was provided with a review copy by the author.

What it's about: (from Goodreads)  Newlyweds Jay and Adriana had a happy marriage and a spectacular sex life—until tragedy struck. Wounded in a car accident, Jay spent a year recuperating while Adriana worked overtime as a chef to pay their bills. Though he's made nearly a full recovery, some aspects of their intimate play will never be the same. It's a small price to pay, all things considered.
But when a long struggle with the insurance company results in an overdue payout, Jay has a plan. He'll take some of it and hire a high-end rent boy who specializes in sexual dominance. Not for him, but as a gift for Adriana, for taking care of him for the past twelve months.
Paul is the handsome stranger they choose…and the one who changes everything. What starts out as a onetime session to fulfill a fantasy turns into something bigger than all of them. But when the money runs out and Paul's dangerous past resurfaces, the sacrifices required to stay together may end up tearing them apart…
What worked for me (and what didn't):  This book had a very strong start for me. I enjoyed the love and acceptance between Adriana and Jay.  I liked how they each wanted the other to have everything they wanted sexually but could not necessarily personally fulfil.  I liked it even though in real life that would threaten me so much I'd just hide in the corner forever.  But these characters are not me and that was very clear in the book.  Because, for them, it worked.  For them, it was right and good and healthy.