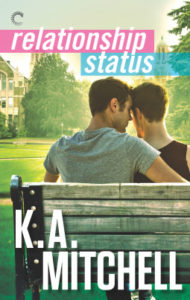 Why I read it:  I'm a fan of KA Mitchell and I have enjoyed the previous two novellas in the series.

What it's about: (from Goodreads)  Life doesn't come with a syllabus.
Ethan knows firsthand that long distance is hard on love. If Wyatt is spending his summer at an internship in Pittsburgh, that's where Ethan will be. Even if it means inventing his own career goal just to find a reason to stay with his boyfriend. He didn't expect they'd be living in a hot, crappy apartment, with work schedules that keep them apart more than together.
Wyatt's past has taught him to keep his head down and focus on living through the day. Loving Ethan has him looking to the future for the first time; he's just not in as big of a rush to get there. It's hard to trust in happiness when life has been busy kicking you in the nuts.
Together they're getting the hang of real life, when a new responsibility for Wyatt throws everything off balance. Ethan's doing everything he can to prove he's in this forever, while Wyatt is torn between a future with Ethan and a debt to the past. Too bad they didn't cover this in college.
What worked for me (and what didn't):  Most of Relationship Status takes place over the course of a summer where Ethan and Wyatt are sharing a room in a small apartment together in Pittsburgh while working and interning. Wyatt is interning at a prestigious engineering firm and Ethan at the ACLU – because there is the vague possibility he might want to be a lawyer but mostly because he wants to be near Wyatt. Between their jobs and internships, there is not a lot of time for them to spend together and when things start off, there is some tension between the pair because of the whole "ships passing in the night" thing.