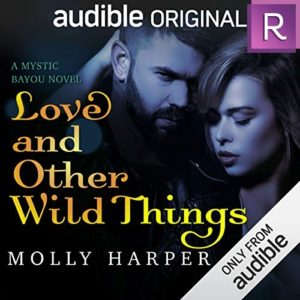 Why I read it:  I'm a fan of this author/narrator combination and I enjoyed How To Date Your Dragon recently.
What it's about: (from Goodreads)  Welcome to Mystic Bayou, a tiny town hidden in the swamp where shape-shifters, vampires, witches, and dragons live alongside humans. The town formed around the mysterious energy rift in the bayou, which helps keep the town's magic in balance. But lately the rift has been widening and destabilizing – threatening to send the town's magical population into chaos.
Energy witch Danica Teel has been sent by the League to figure out what's going on, with the help of bear-shifter Mayor Zed. While working on the case, Zed falls head over paws for Dani, but she's reluctant to engage in anything beyond a roll in his cave. Dani's family is counting on her to get the job done, and she has no time for distractions. But when an ominous presence begins stalking Dani through the bayou, they'll need to band together to make it out alive.
What worked for me (and what didn't):  I feel like all I really need to tell listeners is that instead of a rubber ducky for his bath, bear-shifter Zed has rubber fish. I mean, really, why would one not want to listen to a hero who has a bath with rubber fish toys for non-sexual fun?
But I suppose I should give more reasons for my opinion so…
Zed is quite literally a bear of a man. He's big and brawny and tall, with long hair and a big bushy beard. In other words, he looks nothing at all like the guy pictured on the cover. Dani is a bigger woman – tall and big-boned with 'curves'. While I'm not entirely sure what that means, my guess is that she's maybe about a size 14-16. Not fat but not skinny either. Zed loves Dani's body. As a big man and a bear shifter, he's very conscious of his own strength and with Dani he feels like he doesn't need to be quite so careful not to break her. Not that he's clumsy, just that he can relax a bit more with her physically, which made sense to me. I'm partial to a beefy man myself so I certainly understood Dani's attraction.
The romance between them was a little stop/start. The story seemed to drop the romantic relationship and focus on the mystery/suspense plot and then pick it up again rather than both plots being seamlessly woven together. And, when the romance picked up again I did feel a little like I didn't quite know where Dani's change of heart about pursuing a relationship came from (up until then, she was very anti-relationship and Zed was pretty much ready to settle down and raise cubs with her so there was quite the conflict).
In relation to the mystery/suspense aspect, there was a big misunderstanding which wasn't as smooth as I've seen in other Harper books. Here, I felt very much for Dani. Despite the narrative's apparent acceptance that Dani should have known better, I thought it was the other way around really and she had good reason to believe as she did.
However, there was a lot to like the book as well. The signature Molly Harper humour was out in full force (see the previously mentioned rubber fish toys) and the bromance between Bael and Zed continued to delight me. While I thought Dani's change of heart wasn't well expressed in my ears, I did entirely understand why she'd want to stick around for Zed – he's a big ol' softie who loves his mama and he knows his way around the female form. What's not to love? There were plenty of laugh out loud moments in the listen – to the point where I was occasionally embarrassed because I was at the supermarket with my earbuds in snickering in the aisles when Zed was trying valiantly to talk himself down from being jealous of a co-worker of Dani's who was paying her some attention. Zed treads the line between being territorial in a bear-shifter-appropriate way and being too much in a neanderthal way well; I didn't think he strayed onto the wrong side.
What else? I always enjoy Amanda Ronconi's narrations of Molly Harper's books. She gets the humour so right. Jonathan Davis wasn't quite so polished with the humour but he did have something Ms. Ronconi does not; an absolutely delicious deep baritone for Zed's dialogue. It's super low and growly and so right for Zed. Otherwise, the narration from both performers was polished and skilled and it elevated the story from a B- to a B.
Grade: B