Monthly Mini Review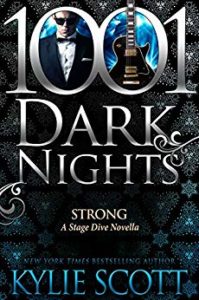 Strong by Kylie Scott – B- It's been a very long time since I've read any of the Stage Dive books so I admit it took me a while to remember Martha and her history with the band but after a chapter or so it all came flooding back. Martha is Ben's (the bass player's) sister and former publicity assistant to the band as well as former girlfriend of David Ferris (hero from Lick). Martha was not a great person in Lick; she tried to split Ev and David up! (Boo! Hiss!)  However, it is nice to get see a different side of a character and for a "bitch" to get a HEA. Martha is still prickly; she hasn't had a personality transplant, but she has matured in the years since she left Stage Dive's employ and enough time has passed that she's put away the hurt she felt over her failed relationship with David.
Sam, the bodyguard and head of Stage Dive's security has had a thing for Martha for a decade. He's a very patient man. But the time is now right. Martha has returned to the fold. She's staying in Portland and looking after Ben and Lizzy's toddler son, Gibson, while Lizzy attends college. The nanny gig is temporary but she needs to be away from New York and around family for a while. She was mugged and assaulted (not sexually) in New York and doesn't feel safe there anymore.
I sincerely hope that this reaction to Martha's reluctance to hand over her handbag is Sam being hyperbolic because if he's actually serious? Not okay. I didn't like it even so for all that I understood it was supposed to convey he's all alpha male protector. (I like alpha male protectors but lately I'm finding I have some specific sensitivities. Huh.)
"What I mean is…if you were mine, I'd have turned your ass bright pink for what you did," he said, all scarily matter of fact. "Thinking a handbag was more important than your life."
The novella is short and extremely hot (oh mama, is it ever).
Some guys just gave you a lick or two then moved on to the fucking segment of the evening as if they'd ticked the good guy head box and had earned their reward. But not so with Sam. He licked and stroked and generally drove me out of my mind…

The man obviously loved going down on a woman.
and a little later
His fingers tightened on my ass, digging in to hold me in place. The man steadily nailed me to the damn wall. Only he kept subtly, slightly shifting his position, searching for something. I didn't realize what until he hit something inside my pussy that made my whole body clench.

"There we go," he said.
There is no significant conflict. This is not a complaint by the way. A lack of conflict is often just what I want in a short novella. Strong really is just a simple girl gets the guy story, with a side of catching up with the other members of the Stage Dive family and a little restoration/repair of relationships (specifically Martha and Ev). I'm not sure it would stand alone very well but as a treat for fans and a spicy short read, it hit the spot for me.
BUY IT:
AMAZON
Coming Soon
on Audio
Reviews of these books will be up soon at AudioGals.
Links