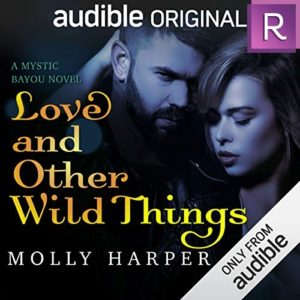 Why I read it:  I'm a fan of this author/narrator combination and I enjoyed How To Date Your Dragon recently.
What it's about: (from Goodreads)  Welcome to Mystic Bayou, a tiny town hidden in the swamp where shape-shifters, vampires, witches, and dragons live alongside humans. The town formed around the mysterious energy rift in the bayou, which helps keep the town's magic in balance. But lately the rift has been widening and destabilizing – threatening to send the town's magical population into chaos.
Energy witch Danica Teel has been sent by the League to figure out what's going on, with the help of bear-shifter Mayor Zed. While working on the case, Zed falls head over paws for Dani, but she's reluctant to engage in anything beyond a roll in his cave. Dani's family is counting on her to get the job done, and she has no time for distractions. But when an ominous presence begins stalking Dani through the bayou, they'll need to band together to make it out alive.
What worked for me (and what didn't):  I feel like all I really need to tell listeners is that instead of a rubber ducky for his bath, bear-shifter Zed has rubber fish. I mean, really, why would one not want to listen to a hero who has a bath with rubber fish toys for non-sexual fun?
But I suppose I should give more reasons for my opinion so…