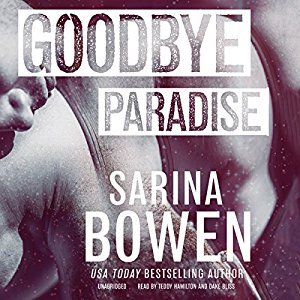 Why I read it:  I bought the book when it was re-released last year but hadn't found time to read it. The audiobook is part of the #AudibleRomance package so I listened to it instead.

What it's about: (from Goodreads)  Most people called it a cult. But for twenty years, Josh and Caleb called it home.
In Paradise, there is no television. No fast food. Just long hours of farm work and prayer on a dusty Wyoming ranch, and nights in a crowded bunkhouse. The boys of the Compound are kept far from the sinners' world.
But Joshua doesn't need temptation to sin. His whole life, he's wanted his best friend, Caleb. By day they work side by side. Only when Josh closes his eyes at night can they be together the way he craves.
It can never be. And his survival depends on keeping his terrible desires secret.
Caleb has always protected Josh against the worst of the bullying at the Compound. But he has secrets of his own, and a plan to get away — until it all backfires.
Josh finds himself homeless in a world that doesn't want him. Can Caleb find him in time? And will they find a place of safety, where he can admit to Josh how he really feels?
What worked for me (and what didn't):  The trajectory of the romance between Josh and Caleb in Goodbye Paradise is unusual for the genre. For one thing, they've known each other all their lives. There's no meet cute. But the main difference is that they always love each other. We don't see the development of those feelings, there is no courtship as such. Rather, the story is about how the two men reveal their existing love for one another and how they eventually come out into the open, showing that love to everyone by doing so.
There is little conflict between Caleb and Josh apart from a small section near the end. The book is mostly about how they make their way from Wyoming to Massachusetts and settle into life outside of a cult, how they make their own family. I wondered, given that Caleb and Josh had never had any other romantic (or sexual) relationships, whether there would be a little of "the grass is greener" but there was never any doubt that Caleb and Josh were meant for each other. Neither man questioned it. I was glad to be wrong actually because the story Goodbye Paradise told was sweetly charming and every now and then, I like a story there there is little keeping the protagonists apart.

I loved the found family that Josh and Caleb made and how they all worked to make that family succeed. Daniel and Maggie (Maggie had run away from the cult some years before and knew both Josh and Caleb there) were wonderful. I'd love to read how they fell in love one day. And I felt for Miriam, Maggie's sister. What she went through felt a little glossed over but then again, it was not her story. I hope she gets her own HEA one day (and if not, I'll imaginate her one myself!)
Perhaps the acceptance of the people around them was a little fairy-tale-ish (but then again, Massachusetts was one of the first states (if not the actual first?) to introduce marriage equality so maybe it's not). Either way, I enjoyed a book where most of the struggle was behind the characters and they were finally being treated as they deserved rather than how it can too often be in the real world.
What else? About 65% of the book was narrated by Teddy Hamilton, who does all of the Josh POV sections. I enjoyed his narration very much. I liked his slight Southern accent and the timbre of his voice. His delivery was smooth and well-paced with good emotion. The rest of the book was from Caleb's perspective and was narrated by Dake Bliss. I didn't enjoy his narration much at all. He was stilted and disjointed, with little emotion in his voice in the narrative parts. I struggled through the first bit he narrated but when the next one came up, I switched to reading and finished the story that way. Both narrators were able to differentiate well between the various characters but it was only Teddy Hamilton who made a performance of it. Dake Bliss just read it like he was performing a class project. I'll be listening to Teddy Hamilton again. I doubt I will listen again to Dake Bliss.

The story was sweet, sexy and charming. I wish Teddy Hamilton could have narrated all of it (though I understand why there were two narrators) but I'm glad I had the ebook as a backup so I could imagine my own Caleb voice.
Grade: B

BUY IT: