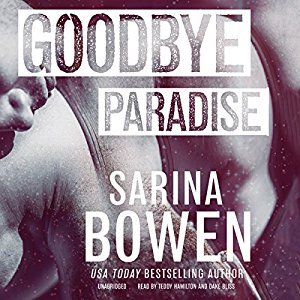 Why I read it:  I bought the book when it was re-released last year but hadn't found time to read it. The audiobook is part of the #AudibleRomance package so I listened to it instead.

What it's about: (from Goodreads)  Most people called it a cult. But for twenty years, Josh and Caleb called it home.
In Paradise, there is no television. No fast food. Just long hours of farm work and prayer on a dusty Wyoming ranch, and nights in a crowded bunkhouse. The boys of the Compound are kept far from the sinners' world.
But Joshua doesn't need temptation to sin. His whole life, he's wanted his best friend, Caleb. By day they work side by side. Only when Josh closes his eyes at night can they be together the way he craves.
It can never be. And his survival depends on keeping his terrible desires secret.
Caleb has always protected Josh against the worst of the bullying at the Compound. But he has secrets of his own, and a plan to get away — until it all backfires.
Josh finds himself homeless in a world that doesn't want him. Can Caleb find him in time? And will they find a place of safety, where he can admit to Josh how he really feels?
What worked for me (and what didn't):  The trajectory of the romance between Josh and Caleb in Goodbye Paradise is unusual for the genre. For one thing, they've known each other all their lives. There's no meet cute. But the main difference is that they always love each other. We don't see the development of those feelings, there is no courtship as such. Rather, the story is about how the two men reveal their existing love for one another and how they eventually come out into the open, showing that love to everyone by doing so.