Monthly Mini Review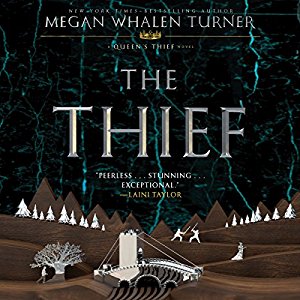 The Thief by Megan Whalen Turner – B I've had the ebook of The Thief on my TBR for ages as the entire series comes highly recommended. I was warned that this first book in the series had a slightly different tone to the later books and that it wasn't as strong a story. But I like to start at the beginning. The entire series has recently been re-released on audio with a highly rated narrator, Steve West.
It is the story of Gen, a young thief who begins the book in the prison of Soonis. The Magus of Soonis offers Gen a chance to get out of jail. There is a stone, called "Hermiathes' Gift", said to bestow immortality on whoever it is given to. The Magus needs a thief to steal the stone and then to give it to the Magus so the Magus can "give" the stone to the King of Soonis, thus strengthening his suit with the Queen of Eddis. Gen, the Magus and his two apprentices set off on a covert mission across Soonis, through Eddis and into Attolia to seek the stone.
The Sixth Sense and Fight Club are movies where a twist at the end reframes the entire story. The Thief is not unlike those movies in that regard. Up until then I liked the story well enough but it did not wow me. The narration was good but a particular narrative choice surprised me. My view about both of those things changed at the end of the story. It all made sense and it was all terribly clever. In the light of hindsight, The Thief was very, very good.
It's a fantasy novel, not a romance; there is not one hint of romance in the book just so you know. But it is a great fantasy book. I'm looking forward to listening to the rest of the series. The narration is excellent.
BUY IT:
AMAZON
Coming Soon
on Audio
Reviews of these books will be up soon at AudioGals.
Links