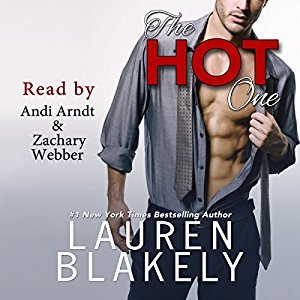 Why I read it:  This is one from my own TBL.

What it's about: (from Goodreads)  Ever notice that sometimes a guy will do something really stupid, like let the love of his life slip through his fingers?
Yeah. I'm that guy. But the moment I run into the woman I once loved madly, I've got one goal and one goal only—a second chance. The plan? Go big or go home.
Fine, at first glance, stripping naked at my ex-girlfriend's place of work might not seem like the brightest way to win her heart again. But trust me on this count—she always liked me best without any clothes on. And you've got to play to your strengths when you're fighting an uphill battle. As a lawyer, I know how to fight, and I'm prepared to fight hard for her. Because sometimes you need a second chance at first love.
He's the one who got away . . .
The nerve of Tyler Nichols to reappear like that at my job, showing off his rock-hard body that drove me wild far too many nights. That man with his knowing grin and mischievous eyes is nothing but a cocky jerk to saunter back into my life. Except, what if he's not . . .? I've tried like hell to forget him, but maybe I'm cursed to remember the guy I fell madly in love with eight years ago. Lord knows I'm not over him, so what's the harm in giving him a week to prove he's changed in the ways that matter?
What worked for me (and what didn't):  When The Hot One first began, I was a little dubious. Tyler is a very gung-ho kind of guy and some of his actions, interpreted through a different lens, could have landed him in asshole territory. Fortunately for him, much of the scene where Tyler turns up naked at Delaney's workplace (and the context matters here – she is a massage therapist) is told from her POV and while she had some misgivings and thought he was being outrageous, she didn't freak out. So I decided not to either.

After the naked thing, the book settled into the kind of sexy, funny romance I've come to expect from Lauren Blakely. What intrigued me the most about this second-chance-at-love tale is that Tyler dumped Delaney with barely any warning, prioritising his future career over their relationship. It was a dick move and he knows it. It's not a star-crossed lovers kind of story where someone or something else kept them apart – it was pretty much all down to Tyler's decision. It was interesting to me that Ms. Blakely was able to bring things back to a place where the HEA felt right.
I enjoy the quirky things which help to set the various characters in this loosely-related series apart from one another. Delaney is a vegetarian and heavily into recycling; Tyler is devoted to his cousin's 2nd-grader daughter (he thinks of her as his niece) and takes her regularly to the park and to museums and such like to spend time with her and he juggles.
Once Tyler and Delaney decide to try again, there's really not much keeping them apart. Of course a spanner gets thrown into the works and once again it is Tyler's impetuosity which gets him into trouble. Still, I liked the way they deal with it – as mature adults so I did believe in the HEA. Tyler probably needs to relax a little more and he definitely needed to stop thinking of Delaney as a deal he had to "lock down" but once he took a breath, he was a pretty good guy.
What else? Zachary Webber has developed his narration skills since I first listened to him – not that he was ever bad; just that I've seen (well, heard) a lot of improvement in his techniques since his first performance. He's become one of the best male romance narrators around. And Andi Arndt is one of the best female romance narrators around – so I knew I'd be in good hands for this listen. Each performance complemented the other very well, both showed good pacing, technique and characterisation.

Grade: B

BUY IT: