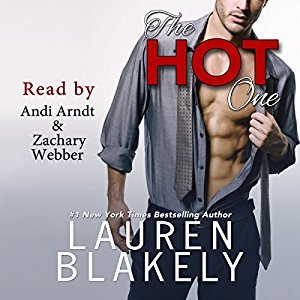 Why I read it:  This is one from my own TBL.

What it's about: (from Goodreads)  Ever notice that sometimes a guy will do something really stupid, like let the love of his life slip through his fingers?
Yeah. I'm that guy. But the moment I run into the woman I once loved madly, I've got one goal and one goal only—a second chance. The plan? Go big or go home.
Fine, at first glance, stripping naked at my ex-girlfriend's place of work might not seem like the brightest way to win her heart again. But trust me on this count—she always liked me best without any clothes on. And you've got to play to your strengths when you're fighting an uphill battle. As a lawyer, I know how to fight, and I'm prepared to fight hard for her. Because sometimes you need a second chance at first love.
He's the one who got away . . .
The nerve of Tyler Nichols to reappear like that at my job, showing off his rock-hard body that drove me wild far too many nights. That man with his knowing grin and mischievous eyes is nothing but a cocky jerk to saunter back into my life. Except, what if he's not . . .? I've tried like hell to forget him, but maybe I'm cursed to remember the guy I fell madly in love with eight years ago. Lord knows I'm not over him, so what's the harm in giving him a week to prove he's changed in the ways that matter?
What worked for me (and what didn't):  When The Hot One first began, I was a little dubious. Tyler is a very gung-ho kind of guy and some of his actions, interpreted through a different lens, could have landed him in asshole territory. Fortunately for him, much of the scene where Tyler turns up naked at Delaney's workplace (and the context matters here – she is a massage therapist) is told from her POV and while she had some misgivings and thought he was being outrageous, she didn't freak out. So I decided not to either.