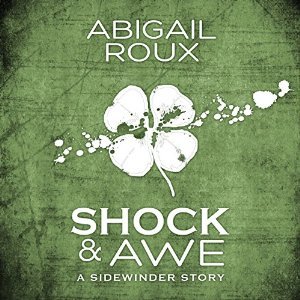 Why I read it:  I was provided with a review copy via the publisher.

What it's about: (from Goodreads)  After barely surviving a shootout in New Orleans, Sidewinder medic Kelly Abbott has to suffer through a month of recovery before he can return home to Colorado. He's not surprised when fellow Sidewinder Nick O'Flaherty stays with him in New Orleans. Nor is he surprised when Nick travels home with him to help him get back on his feet—after all, years on the same Marine Force Recon team bonded the men in ways that only bleeding for a brother can. He's very surprised, though, when Nick humors his moment of curiosity and kisses him.
Nick knows all of Kelly's quirks and caprices, so the kiss was a low-risk move on his part . . . or so he thought. But what should've been a simple moment unleashes a flood of confusing emotions and urges that neither man is prepared to address.
Now, Kelly and Nick must figure out what they mean to each other—friends and brothers in arms, or something even deeper?—before the past can come back to ruin their tenuous future.
What worked for me (and what didn't):  When Dreamspinner Press first started publishing their m/m romances at Audible I got very excited. I bought a few and tried them and they are the only books I've ever returned because they were TERRIBLE. It made me reluctant to try m/m on audio since then but when I was approached by Riptide, I decided to try again. Riptide have a reputation for quality and I had the opportunity to speak to someone there early on in the piece about what was wrong with the DSP narrations and the kinds of things listeners were looking for in an audiobook. I don't know how much, if any, influence my little contribution had but I was interested to see if Riptide could manage what DSP could not. The short answer (and admittedly based only on this very small sample) is: yes they can.

As audio-lovers know, it's all about the narrator. Choosing the right one for the book is of paramount importance. The extra layer of difficulty in narrating a same sex romance is that it is often harder for narrators to differentiate the voices for each of the main characters. That was my biggest complaint with the earlier ones I tried – there was just no difference between the male character voices and it was impossible to distinguish what was really going on. In Shock & Awe, the differentiation is subtle (mainly done by accent – Nick is from Boston) but it is there and it is consistent and, for the most part, I didn't have trouble working out who was doing or saying what.
The other great thing the narration had was a good amount of expression and emotion. It wasn't overplayed and cheesy (although some of the dirty things they said to each other made me blush a little – it's different out loud!) and it wasn't monotone and booooring. Instead, Mr. Thompson struck the right balance between letting the text tell the story and inhabiting the characters by use of expression, tone and affect.
What else? I haven't read all of the Cut & Run series – just the first three I think but I'm familiar with the characters of Ty Grady and Zane Garrett (who both make a cameo in Shock & Awe. This novella obviously picks up shortly after the events of Touch & Geaux in New Orleans – other than that it ended "happily" not much is given away but by the same token I had absolutely enough information to make sense in the present story. (I'm not sure someone who had not read any of the Cut & Run series at all would find it as easy to sink into however.) 
Perhaps Kelly makes the leap from straight to bi-curious to bisexual with less deep thinking and possibly less angst than one might expect but otherwise I enjoyed the dynamic between the guys. They have a deep and long-lasting friendship already and, reading between the lines, there had been at least a small element of homo-attraction to their interactions beforehand.

The Shock & Awe audiobook is actually two stories – one is centered at Kelly's cabin in Colorado and deals with the very beginnings of their mutual attraction while Kelly is recovering from wounds received in New Orleans. The other is a shorter story which follows on about three months later and which "beds down" the relationship (in more ways than one *wink*).  Both stories are very much romance focused and do no have an adventure/suspense subplot. (I have Cross & Crown to listen to at some point in the future – that's a "category length" audio and it does have a suspense arc as well.)
As an introduction to a spin-off series featuring Kelly and Nick, Shock & Awe does it's job of making me believe the men care about one another deeply and making me care about them – all in all, it was a pleasant surprise.
Grade: B