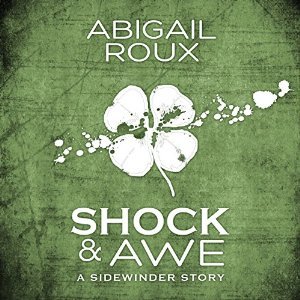 Why I read it:  I was provided with a review copy via the publisher.

What it's about: (from Goodreads)  After barely surviving a shootout in New Orleans, Sidewinder medic Kelly Abbott has to suffer through a month of recovery before he can return home to Colorado. He's not surprised when fellow Sidewinder Nick O'Flaherty stays with him in New Orleans. Nor is he surprised when Nick travels home with him to help him get back on his feet—after all, years on the same Marine Force Recon team bonded the men in ways that only bleeding for a brother can. He's very surprised, though, when Nick humors his moment of curiosity and kisses him.
Nick knows all of Kelly's quirks and caprices, so the kiss was a low-risk move on his part . . . or so he thought. But what should've been a simple moment unleashes a flood of confusing emotions and urges that neither man is prepared to address.
Now, Kelly and Nick must figure out what they mean to each other—friends and brothers in arms, or something even deeper?—before the past can come back to ruin their tenuous future.
What worked for me (and what didn't):  When Dreamspinner Press first started publishing their m/m romances at Audible I got very excited. I bought a few and tried them and they are the only books I've ever returned because they were TERRIBLE. It made me reluctant to try m/m on audio since then but when I was approached by Riptide, I decided to try again. Riptide have a reputation for quality and I had the opportunity to speak to someone there early on in the piece about what was wrong with the DSP narrations and the kinds of things listeners were looking for in an audiobook. I don't know how much, if any, influence my little contribution had but I was interested to see if Riptide could manage what DSP could not. The short answer (and admittedly based only on this very small sample) is: yes they can.