on Paper/eBook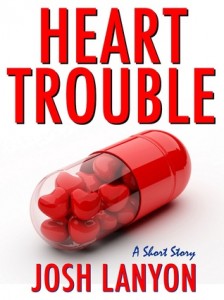 Heart Trouble by Josh Lanyon – C Sunita had a post up at Vacuous Minx (there is also a version of it at Dear Author now too) and she talked about short stories, serials and length/form in genre fiction. One of the books she linked to as a favourite of hers was this short story.  It's only 21 pages and the RRP is $2.99 (I got it at the recent All Romance eBooks Earth Day sale so I earned back $1.50 in ebook bucks which made it more palatable for me).  I've only read a little bit of Lanyon – what I have read I've liked to one degree or another and there are quite a few of his books on my TBR and wishlist.
I would have enjoyed this story more but there was something in the premise that I struggled with. The story starts with Ford at the hospital – he thought he was having a heart attack.  His doctor is Dr. Jacob Hoyle. Jacob is caring and kind and very helpful to Ford in a medical sense. He goes above and beyond and takes Ford home because he doesn't want him to drive. It's about at this point that I started feeling uncomfortable. Because Ford is still his patient and I have trouble finding a current doctor/patient romance romantic or… okay actually.  This is just me though. Some people can't read a teacher/student book or a lawyer/client book – doesn't make any of it bad or wrong.  Vegemite.
I can see from an intellectual point of view how the story is clever and does what it needs to do in a short space of time. I didn't get the sense that there was anything that ought to have been there that wasn't. So Sunita was right – all the words counted and the story was complete.  I like fiction of all kinds of lengths – sometimes short little bites are perfect for my mood or the time I have and other times, something longer or lengthy is what I'm after.  For me, this story was one I could admire in a technical sense even while I found it difficult to connect in the emotional sense.
Coming Soon
on Audio
Reviews of these books will be up soon at AudioGals.
Links