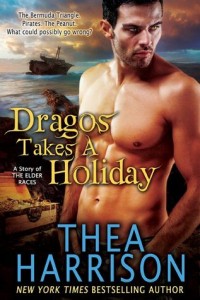 Why I read it:  I received a copy from the author via NetGalley and I'm a fan of the series.

What it's about: (from Goodreads)  The Bermuda Triangle. Pirates. The Peanut. What could possibly go wrong?
Dragos Cuelebre needs a vacation. So does Pia, his mate. When the First Family of the Wyr head to Bermuda for some much needed R&R, it's no ordinary undertaking – and no ordinary weekend in the sun. Between hunting for ancient treasure buried beneath the waves and keeping track of their son, Liam—a.k.a. Peanut, whose Wyr abilities are manifesting far ahead of schedule—it's a miracle that Pia and Dragos can get any time together.
They're determined to make the most of each moment, no matter who tries to get in their way.
And did we mention pirates?
What worked for me (and what didn't):  This little delight is like a gift to fans of the series. I don't think it would work as a stand alone – all the joy comes from knowing the characters and seeing how far Dragos (in particular) has come. Liam (aka the Peanut) is just gorgeous and readers will be dying of teh cute from him alone. It's about 90 pages long and doesn't take long to read, so it's a great choice if you have a) read the other books (or at least the Dragon Bound and Lord's Fall) b), don't have a lot of time but want to get maximum bang for your buck.  Because the characters are familiar, the it's easy to settle into the story quickly and there is a story – it's not an extended epilogue – which is partly about pirates (!) and partly about Dragos and Pia settling into life as parents and all the changes which come along with that.

Dragos has been particularly busy given that he's had to replace two Sentinels in the previous year and when Pia (through wiles) convinces him to take a short break to somewhere Dragos can indulge his penchant for treasure hunting, they also have a chance to have some uninterrupted time alone together. I'm a big fan of seeing slices of the happy ever after and this one was particularly well done I thought.  Dragos and Pia are still combustible and like I said, the Peanut has all the cuteness.  There are sections of the novella from all three points of view and I thought the bits from Liam's POV were especially fun.
And then there was this:
They reached the crowded floor. Without the discipline and structure of a waltz, he wasn't sure what he should do. He stood, hands on his hips, as he studied the movements of the other dancers. Some of them looked like they had been tasered and were shuddering just before they collapsed.
That, he would not do. Could not.
Pia touched his biceps. When he looked down at her, her face brimmed with… Okay, that was more than just joy. That was laughter, too.
"Just move." She put her hands on his hips. "Don't overthink it. Listen to the music, do what you want and be natural."
Do what you want. Those instructions were easy enough to follow.
He tugged her close, and she came readily to him, wrapping her arms around his waist. However, she did more than just hug him. She rubbed her slender, curvy body against his rhythmically, twisting and swaying in time to the music, and Dragos's opinion about dancing underwent a drastic change.
What else? If you've enjoyed Dragos and Pia before, definitely pick this one up.

Grade: A-