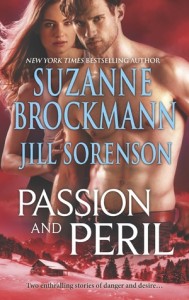 Why I read it:  I received a review copy from the author. This brand new novella is being packaged with a re-release Silhouette title from Suzanne Brockmann called Scenes of Passion.  The anthology is called Passion and Peril and releases on November 26. 
I don't remember much of Scenes of Passion – I read the original category a few years ago which I picked up at my local UBS.  I gave it 3 stars on Goodreads so I gather from that I thought it was okay but nothing amazing.

What it's about: (from Goodreads)  The snowstorm forecast says it's a big one, but wildlife photographer Paige Dawson is prepared. Until a terrible car accident brings a sexy stranger to her remote mountain cabin and the bad weather strands them together . . . for days. The heat between them is like nothing she's ever known — incendiary, undeniable. And just as she begins to hope for something real with Colin Reid, after the snow melts, he remembers what caused his accident . . . and it may be too late for them both.
What worked for me (and what didn't):  While I thought the beginning of the story was a little overdone (too many exclamation marks), things really picked up in chapter two.  Paige and Colin had a lot of things in common and their connection and attraction was obvious.  I thought Colin in particular was pretty funny in the way he thought about things.  Some of his musings regarding a naked Paige made me chuckle.  The novella is only about 70 pages long, so there wasn't a lot of time in which to draw the characters and make me care about them, but by the end of chapter two, I did.  There's not time for deep character exposition but the essential parts of them were on the page and it was clear that their connection was based on more than mutual lust.

For some reason I thought Paige was a lot older at the start of the novella – it was a bit of a shock to find she was only 27.  I guess I defaulted to older because I couldn't imagine such a young woman living alone in so isolated a place.  That may be a failing of my imagination of course.
Paige isn't sure she's in the market for more than a fling and from the current of attraction running between them, she intuits emotions will inevitably be involved if she starts anything with Colin.  Colin lives some hours away in LA and has a job there teaching at USC so it's not like he's easily mobile.  There are obstacles to a HEA for them, but by the end of the novella, I felt they would work them out somehow.  Because it is only a short story, it ends appropriately in a believable and hopeful HFN.  They do seem like two peas in a pod though so I had no trouble seeing them together in the long term also.
I enjoyed the parts of the novella where Colin and Paige were stranded together best – I liked watching them interact and find a rare sympatico.   Of course, this is a romantic suspense so there is a threat to their happiness but I won't spoil it by saying much more.  The suspense part worked less well for me but it was also not really the main focus – but rather, like bookends to the story.
There is also a nod to the author's other series, with reference to the San Diego earthquake which was the subject of her book Aftershock.
May I also say hooray for a hero with "thick stubby eyelashes" instead of the super long eyelashes that make women jealous?
It was a short and enjoyable evening's read.  Even though I can't remember much about Scenes of Passion (or perhaps because of that) I liked it better than the Brockmann.
Grade: B-