Monthly Mini Review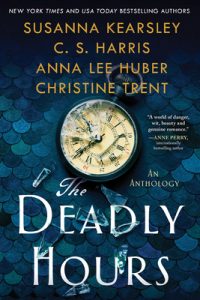 CW: torture/abuse in interrogation
Siren's Call by CS Harris C Siren's Call is the fourth and final novella from The Deadly Hours, a multi-author anthology of historical mysteries with at least some romance, connected by a cursed gold pocket watch called "La Sirène". I had expected (maybe even hoped for) a Sebastian St. Cyr novella but Siren's Call has completely new characters and is set in June 1944 just after the D-Day landings. Rachel Townsend-Smythe, daughter of a prominent family in New Godrick in Kent, discovers the dead body of her elderly friend, Major Henry Crosby. Rachel is a museum curator, she had hoped to finally convince the major to store some of his treasures (including the watch case which once held La Sirène in safety from potential German bombs. It is apparent the major was murdered and it turns out, the watch case is missing.
Jude Lowe, former spitfire pilot injured in the war turned MI5 agent is in New Godrick with a colleague looking for a spy after the military had intercepted a series of coded messages emanating from the area.  Given Major Crosby's recent duties with the Royal Observation Corps, there may be a connection to the spy and the murder so he ends up investigating.
The mystery itself is well done and an enjoyable story. There is a hint of romance which ends happily but I wouldn't call this novella a romance. Most of the courtship between Rachel and Jude happens off page and in the space between the mystery being resolved and the brief epilogue. The main thrust of the story is the mystery, which is solved in only a few days. I don't judge the story by the romance (or lack thereof) however, because I approached the anthology as a series of historical mysteries.
However, there was one aspect to Siren's Call which gave me pause and it did have an effect on how I viewed the romance as well as the story overall.  It's a  mild spoiler so look away know if you don't want to know. Jude and his colleague, Remus Stokes, a former Scotland Yard detective, have only a few suspects to investigate, given how close knit the community is. One suspect is Sigmund Reinhardt, a gay, Austrian Jew who fled from his country to Britain at the beginning of the war. At one point, Stokes is ordered by his superiors to interrogate Reinhardt and obtain information from him "by any means necessary" and this does involve torture. Jude does not participate in it directly and he clearly disapproves – the text says he is in fact ashamed – but he takes way too long to put a stop to it. Reinhardt does not let Jude off the hook for his part in the abuse and I appreciated that very much. Still, police/military brutality of any sort is not okay and it is particularly on the nose right now. I'd have much rather Jude intervened a lot earlier and tried to build a rapport with Reinhardt and extracted the information he held in a gentler more benign way.  In terms of the romance, Rachel does see the after effects of the interrogation and is understandably appalled by it. There is a gap of many months between the resolution of the main story and the epilogue but the reader never sees how Rachel came to reconcile Jude's behaviours and we also never see Jude's own reconciliation with what he did. It is assumed but not specified. Given what was specified, that wasn't really enough for me.
When I thought about it further for the purposes of writing this review, it bothered me even more because Reinhardt was both Jewish and gay. It seemed to me it was his Austrian background which made him the candidate for interrogation and not his Jewishness or sexuality but it was still the case that only queer Jewish character in the book was brutally beaten. While Jude and the town of New Godrick did not appear to have any animosity toward Reinhardt as a result of his religion or sexual orientation (which I was very pleased to see), I did not like that he was so ill-treated. I realise that even today brutal interrogation methods are used by the military and law enforcement and so perhaps it was not an unrealistic depiction but Jude's part in it did not sit well with me. What would have been a B read became a C because of it.
BUY IT:
AMAZON     KOBO     BOOK DEPOSITORY    BOOKTOPIA  
Coming Soon
on Audio
Reviews of these books will be up soon at AudioGals.
Links