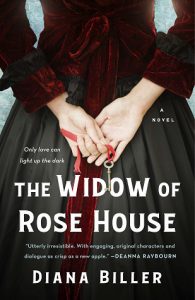 Why I read it:  It was recommended to me by my friend Brie who always gives good rec.

What it's about: (from Goodreads)  A young widow restores a dilapidated mansion with the assistance of a charming, eccentric genius, only to find the house is full of dangerous secrets in this effervescent Gilded Age debut novel
It's 1875, and Alva Webster has perfected her stiff upper lip after three years of being pilloried in the presses of two continents over fleeing her abusive husband. Now his sudden death allows her to return to New York to make a fresh start, restoring Liefdehuis, a dilapidated Hyde Park mansion, and hopefully her reputation at the same time. However, fresh starts aren't as easy as they seem, as Alva discovers when stories of a haunting at Liefdehuis begin to reach her. But Alva doesn't believe in ghosts. So when the eccentric and brilliant professor, Samuel Moore, appears and informs her that he can get to the bottom of the mystery that surrounds Liefdehuis, she turns him down flat. She doesn't need any more complications in her life―especially not a handsome, convention-flouting, scandal-raising one like Sam.
Unfortunately, though Alva is loath to admit it, Sam, a pioneer in electric lighting and a member of the nationally-adored Moore family of scientists, is the only one who can help. Together, the two delve into the tragic secrets wreathing Alva's new home while Sam attempts to unlock Alva's history―and her heart.
What worked for me (and what didn't):  I loved this book. I've been recommending it all over Twitter.  My Twitter summary is:
There's a ghost and the most wonderful eccentric cinnamon roll hero and a fantastic heroine, resilient and clever, fragile and brave. It's funny and sweet and charming and sexy.
The book is a delight. The ghost is definitely an important part of the story but the main plot is the romance between Alva and Sam. The couple are brought together very early on and spend lots of page time together – something that always makes me very happy.
It's also very funny. Sam is an eccentric inventor with eclectic interests – including in the supernatural. He's easily distracted and so adorable – all the characters are charmed by him and I was too. Alva is constantly finding herself drawn into his interested excitement despite her best intentions. He's just irresistible. (I know, Alva. I know.) Sam sees a problem and naturally tries to devise a way to fix it. Like here, for example when he considers that time spent tying shoelaces is wasted time and enlists Alva's aid in his research.
"Never mind. Now if you'll excuse me, my shoes are quite damp, so—"

He looked at her shoes. "Those are ridiculous," he said.

She sighed and followed his gaze. They were ridiculous, of course: embroidered half boots in black suede, now quite destroyed by the slush and general grime and muck of New York, and uncomfortable on top of it all. She hated them. "They're perfectly ordinary footwear," she said. "Now if you please—"

"How long do you spend lacing those?" he asked, crouching down to get a better look. "It must take … good lord, it must take up to a minute. And then another thirty seconds to unlace them."

In truth, it took longer. The laces were tiny, and they went all the way up the boot. "I simply don't see—"

"And don't you women change during the day?" he said, looking up at her in horror. "My sister does, and I think it's general behavior."

"I'm sure I don't—"

"Why, it must take you … it could take you almost twenty hours a year to lace and unlace your footwear! That'll teach Henry," he said with savage pleasure. "He said no one would want a shoe-lacing device. We'll just need to develop it for women. It'll change the design a bit, of course—"

"I don't think that sum's right at all," Alva said after a few seconds of furious thought. "That assumes doing the whole rigmarole twice a day—"

"Yes—"

"But with the same pair of shoes. These are extreme examples. Sometimes I wear slippers."

"The kind you wear to bed?"

She almost laughed but managed to suppress it in time. "No, the kind you wear to go dancing."

"Ah, and they don't have laces?"

"No," she said. "Although I suppose sometimes other shoes worn during the day do."

"I see," he said, rummaging inside his jacket and producing a notebook and a stub of pencil. "Now," he said, "on an average day, how many changes of shoe would you say you go through?"
He's a cinnamon roll type – very caring and generous and fierce when it comes to protecting those he loves. And, it doesn't take long before he loves Alva. That said, he does listen to her and he does think about what she needs and wants rather than what will satisfy him when he is upset on her behalf. He doesn't make his distress over difficulties in her life another problem for her to deal with.
A keen observer, Sam notices things about Alva she'd rather keep hidden. But he also see qualities in her that she doesn't always realise she has.
She had tasted of strength and passion, of meticulously banked fire and fury, and when he remembered holding her all he wanted to do was find out what would happen if she decided she trusted him enough to release it.
I should add here a content advisory for domestic violence. Alva's first husband was a very not nice man.
Alva is initially very resistant to Sam's pleas to let him investigate the ghost in Liefdehuis but when contractors balk at doing the restoration work because of said ghost, Alva has little choice but to try and deal with the ghost somehow or all of her plans will come crumbling down.
Alva's journey over the book is finding her feet after a bad marriage, creating something that is hers alone and making a space for herself in a world which has vilified and rejected her. She doubts Sam can fit into that but Sam just keeps being there – loving her and open with his feelings – and how's a girl to resist that for too long?
"May I ask why were you so set on Liefdehuis particularly?"

"Partially because there are so many different versions of the story," Sam said. "It's all over the place. Sometimes people think they see a murder, or a suicide, the ghost's origin story, if you will. Other times it's a lady's hand, or a noose unspooling from the ceiling—classic stuff, the kind you'd find in a Dickens story. It's fantastic. Other ghost stories, they may vary a little, but they're all basically about the same thing. A woman drowned herself, and now she haunts the road along the lake, her white dress dripping. Maybe she has long black hair trailing down her back, or maybe it's up in a bun, but everyone agrees it's a drowned woman. And there's you."

Alva blinked. "Me?"

"It's a factor. I like you. I'd like you even if you weren't the most beautiful woman I've ever seen, but I'm sure that's a factor, too."

"You shouldn't say things like that," she said. "We've already discussed it. Nothing is going to happen with regards to … to that."

"And I accept your decision, even though I hope you change it," he said. "But you asked me why I was interested in Liefdehuis, and you're part of the answer."
Alva is a fantastic heroine with a wonderfully dry wit. Sam is kind of a giant puppy dog a lot of the time, enthusiastic and affectionate, whereas Alva is far more practical in her outlook. She has her reasons of course. Sam has had something of a golden life and Alva's while financially secure was in all other ways, very not. Things have always come easily to Sam but he realises that Alva is like nothing and no-one ever before in his life and he's going to have to work hard to win her trust. Sam's friend, almost-brother and lawyer, Henry (who clearly has a story of his own) points out to him that even if he does all the things, Alva may still be unable to accept what he's offering.
The secondary cast is wonderful as well. Particularly the other members of the Moore family. Everyone is fabulous and I adored the story of how Sam's parents met and got together. I can't wait for the next book in the series which I believe will feature Benedict Moore, Sam's younger brother.
What else? I was enjoying the book so much and reluctant to leave it so I also bought the audiobook, narrated by Samantha Desz. While the narration didn't quite live up to the text, it was nevertheless enjoyable and I switched between the two media until I finished, depending on what was more convenient at the time. (Alas, I have not worked out a safe way to read an ebook while driving yet.) I had been pronouncing Alva as in rhymes-with-salver. Ms. Desz pronounced the name differently, more like "All-va" (or perhaps "awl-va") which I found a bit jarring and Sam's voice didn't quite match the one in my head. But otherwise, the audiobook was well done. I think this is one where the print version is better because the language is often something to savour and I find that easier to do in print.

I loved The Widow of Rose House.  It's wonderfully written and carefully plotted, with characters I cared about instantly. It will certainly make my best of 2019 list.
Grade: A