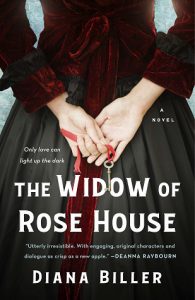 Why I read it:  It was recommended to me by my friend Brie who always gives good rec.

What it's about: (from Goodreads)  A young widow restores a dilapidated mansion with the assistance of a charming, eccentric genius, only to find the house is full of dangerous secrets in this effervescent Gilded Age debut novel
It's 1875, and Alva Webster has perfected her stiff upper lip after three years of being pilloried in the presses of two continents over fleeing her abusive husband. Now his sudden death allows her to return to New York to make a fresh start, restoring Liefdehuis, a dilapidated Hyde Park mansion, and hopefully her reputation at the same time. However, fresh starts aren't as easy as they seem, as Alva discovers when stories of a haunting at Liefdehuis begin to reach her. But Alva doesn't believe in ghosts. So when the eccentric and brilliant professor, Samuel Moore, appears and informs her that he can get to the bottom of the mystery that surrounds Liefdehuis, she turns him down flat. She doesn't need any more complications in her life―especially not a handsome, convention-flouting, scandal-raising one like Sam.
Unfortunately, though Alva is loath to admit it, Sam, a pioneer in electric lighting and a member of the nationally-adored Moore family of scientists, is the only one who can help. Together, the two delve into the tragic secrets wreathing Alva's new home while Sam attempts to unlock Alva's history―and her heart.
What worked for me (and what didn't):  I loved this book. I've been recommending it all over Twitter.  My Twitter summary is:
There's a ghost and the most wonderful eccentric cinnamon roll hero and a fantastic heroine, resilient and clever, fragile and brave. It's funny and sweet and charming and sexy.