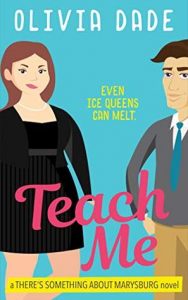 Why I read it:  I have enjoyed the author's earlier books. Spoiler alert: this one is her best yet.
What it's about: (from Goodreads)  Their lesson plans didn't include love. But that's about to change…
When Martin Krause arrives at Rose Owens's high school, she's determined to remain chilly with her new colleague. Unfriendly? Maybe. Understandable? Yes, since a loathsome administrator gave Rose's beloved world history classes to Martin, knowing it would hurt her.
But keeping her distance from a man as warm and kind as Martin will prove challenging, even for a stubborn, guarded ice queen. Especially when she begins to see him for what he truly is: a man who's never been taught his own value. Martin could use a good teacher–and luckily, Rose is the best.
Rose has her own lessons–about trust, about vulnerability, about her past–to learn. And over the course of a single school year, the two of them will find out just how hot it can get when an ice queen melts.
What worked for me (and what didn't):  I'm going to try not to gush but it's going to be difficult. From the first page, I settled in to happily enjoying Teach Me. The characterisations are rich and layered, the messaging is strong without being preachy, the inclusivity is just there without it having to be a thing, an analog to the real world we live in.
As a hero-centric reader, I fell almost immediately for Martin who is a gorgeous cinnamon roll of a hero with his own vulnerabilities and pain points. He is ever and always respectful of Rose, of her desires and wishes and needs, of women in general in fact.

Not a single word from her mouth was objectionable. Not a single word from her mouth was personal, either. She didn't ask him about himself. She didn't tell him about herself. She didn't smile. She didn't do anything but give him necessary, job-related information.

And that was absolutely, unequivocally her choice. She didn't owe him, a near-stranger, smiles or warmth or personal information or interest.

He'd told his daughter Bea the same thing many, many times over the years. Being a woman didn't obligate her to make men—or anyone—comfortable in her presence. People who said otherwise could contemplate their terrible life choices while she shoved their arrogant presumption somewhere exceedingly painful.

Rose's chilliness didn't offend him. Not at all.

It did worry him, though.
Martin, through  no fault of his own, takes something very precious from Rose when he arrives at the school, because of a douchenozzle administrator who has it in for her. Rose is terribly hurt but realises it's not Martin's fault and tries her best to be fair to him. But she's not warm. She holds people at arm's length. She's been at Marysburg High for more than 15 years but she hasn't made any real friends – she hasn't wanted to. There are reasons for it.
But Martin, because of who he is, begins to open Rose's heart and in the process her whole life gets bigger – in loving Martin, she finds she has room for friends too.
Rose's "ice queen" persona is a self-protection mechanism of course. It has served her well and, for the most part, continues to do so over the course of the book. But it gets in the way in some places and Martin gently encourages Rose to take a leap into being vulnerable, promising he will be there to catch her.
For his part, Martin has struggled all his life with not being good enough, "man enough", to be acknowledged publicly as worthy and that is the central conflict of the book. For Rose and Martin to be together, she will need to let go of some of her rules and Martin will have to scale the walls surrounding her heart. It's all terribly romantic and delicious, with a reasonable amount of angst as well, without ever going into melodrama. One of the things I feared might happen didn't and I was so relieved by that – but I won't say more on that so as not to spoil the book for anyone. The characters act in ways which are true to themselves and intelligent and mature and it's not remotely boring even though "mature" and "intelligent" kind of sound like they might be. I was happily engaged the whole way through the story.
I loved Rose. I loved her prickliness and her hard work and hard-won confidence in herself. I loved that she would not allow others to diminish her. I wish I had a bit more Rose in me to be honest. I identified more with Martin – mostly because of this:
And knowing someone was angry at him, in whatever context, made him twitchy. Always had.
While not quite a people-pleaser, Martin does tend to take on the burdens of the emotions of others and I felt that so hard because same! (Although unlike Martin I tend more toward people-pleaser. I'm working on it.)
Martin is also a great dad and he has a wonderful relationship with his daughter Beatrice. I also liked how Martin's ex-wife was carefully portrayed. My impression of her wasn't positive but I didn't feel like she was the "evil ex" either. Her depiction was far more nuanced than that and Martin, being the excellent dad he is, never tries to get Bea to take sides.
Martin and Rose are both passionate about teaching and their students and that was also lovely to see. They like their job – lord knows they're not in it for the money – and they go the extra mile for their students. While Martin and Rose have a number of differences, they're two peas in a pod when it comes to their love of teaching and their passion for their profession.
Rose's former in-laws Annette and Alfred are hilarious and fabulous and they provided quite a bit of the humour in the story – all of which was good-hearted.
Rose is a fat woman. That word is used in the book as a descriptor but not a pejorative (because it isn't). Martin loves Rose's body and, perhaps more importantly, Rose is pretty happy with her body too and that body positivity was a delight in itself. The story isn't about Rose being fat. There's no weight loss or makeover. There's no revelation that she's "worthy" at the size she is. Rose is comfortable in her own skin. She's healthy and active and strong – she has no desire to be thin. More of this please.
What else? It was only the "grand gesture" near the end of the book which didn't 100% work for me. In part I think that's because I'm Australian and the set up seemed to be very US-centric (or perhaps North American-centric) so I didn't have the same touchstones from my own school days to call back to. But it was also just a little too cheesy for me. I liked it but it was a little different in tone than the rest of the book. Also, it felt just a little outside of Rose's character. I knew she'd have to go outside of her comfort zone but where she went was a surprise even so.
The sex in the story is super hot but when I look back, there is really only one (lengthy – heh) scene and the others are more, mentions or allusions. That said, that scene is scorching and earthy and delicious.
There was so much to love about Teach Me. It hit all my good book buttons and I just want everyone to read it and love it too.
Grade: A-