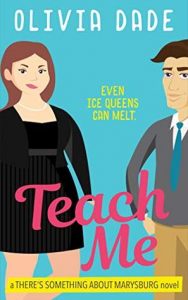 Why I read it:  I have enjoyed the author's earlier books. Spoiler alert: this one is her best yet.
What it's about: (from Goodreads)  Their lesson plans didn't include love. But that's about to change…
When Martin Krause arrives at Rose Owens's high school, she's determined to remain chilly with her new colleague. Unfriendly? Maybe. Understandable? Yes, since a loathsome administrator gave Rose's beloved world history classes to Martin, knowing it would hurt her.
But keeping her distance from a man as warm and kind as Martin will prove challenging, even for a stubborn, guarded ice queen. Especially when she begins to see him for what he truly is: a man who's never been taught his own value. Martin could use a good teacher–and luckily, Rose is the best.
Rose has her own lessons–about trust, about vulnerability, about her past–to learn. And over the course of a single school year, the two of them will find out just how hot it can get when an ice queen melts.
What worked for me (and what didn't):  I'm going to try not to gush but it's going to be difficult. From the first page, I settled in to happily enjoying Teach Me. The characterisations are rich and layered, the messaging is strong without being preachy, the inclusivity is just there without it having to be a thing, an analog to the real world we live in.
As a hero-centric reader, I fell almost immediately for Martin who is a gorgeous cinnamon roll of a hero with his own vulnerabilities and pain points. He is ever and always respectful of Rose, of her desires and wishes and needs, of women in general in fact.

Not a single word from her mouth was objectionable. Not a single word from her mouth was personal, either. She didn't ask him about himself. She didn't tell him about herself. She didn't smile. She didn't do anything but give him necessary, job-related information.

And that was absolutely, unequivocally her choice. She didn't owe him, a near-stranger, smiles or warmth or personal information or interest.

He'd told his daughter Bea the same thing many, many times over the years. Being a woman didn't obligate her to make men—or anyone—comfortable in her presence. People who said otherwise could contemplate their terrible life choices while she shoved their arrogant presumption somewhere exceedingly painful.

Rose's chilliness didn't offend him. Not at all.

It did worry him, though.