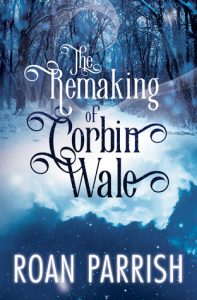 Why I read it:  I picked this one up when it was on special for 99c recently but it had been on my wishlist for ages.
What it's about: (from Goodreads)  Last month, Alex Barrow's whole life imploded—partner, home, job, all gone in forty-eight hours. But sometimes when everything falls apart, better things appear almost like magic.
Now, he's back in his Michigan hometown, finally opening the bakery he's always dreamed of. But the pleasure of opening day is nothing compared to the lonely and beautiful man who bewitches Alex before he even orders.
Corbin Wale is a weirdo. At least, that's what he's heard his whole life. He knows he's often in a fantasy world, but the things he feels are very real. And so is the reason why he can never, ever be with Alex Barrow. Even if Alex is everything he's always fantasized about. Even if maybe, just maybe, Corbin is Alex's fantasy too.
When Corbin begins working at the bakery, he and Alex can't deny their connection any longer. As the holiday season works its magic, Alex yearns for the man who seems out of reach. But to be with Alex, Corbin will have to challenge every truth he's ever known. If his holiday risk pays off, two men from different worlds will get the love they've always longed for.
What worked for me (and what didn't):  I didn't really know what to make of this book at first. It's in a genre all of it's own I think. It's contemporary with a touch of magic. It's a fae book in so many ways. The writing style has more than a hint of faery tale to it, particularly in the sections told from Corbin's point of view. It's not quite PNR, it's more ethereal than that. What it is, is quite beautiful.
The Remaking of Corbin Wale is told in the style of a faery tale and once I worked out what was going on I just went with it. There's a surrealism to the writing and to the story and a lyricism to the language which fits the tone entirely. Some of the phrasing is just lovely and also innocently profound.
And sorry was just a wish about something that had already happened. Just a regret on someone else's behalf.
Because of the style of the book, there's not much by way of courtship. Alex falls for Corbin immediately, feeling a strong connection to him from the start. It becomes apparent that Corbin felt much the same way, although it is quite a bit later in the book before the reader is in his head to know for sure. Usually I'm not a huge fan of "insta-love" but that's not really what it felt like here. It was obviously far deeper than lust (although their sexual attraction is definitely strong), more like pieces of a puzzle clicking into place somehow. It works in a faery tale far better than in a straight up contemporary story. I wasn't left questioning the judgement of either character. Quite the contrary in fact.
Both men want quite desperately to be together but each is cautious because reasons (I won't spoil them here; it's much more fun to let the book evolve on its own I believe) and neither rushes into a relationship.
Corbin is very much a wild fae creature (although he is a human) and Alex senses instinctively that to push or persuade him into giving more than he is willing will only lead to disaster. Alex coaxes but always respectfully. He does not manipulate. It was kind of like tempting a feral cat to come to eat out of his hand, though Corbin is not an animal and the book does not ever portray him that way so the analogy only goes so far.
What else? Perhaps there was a time in the story where I wondered if Corbin would give enough to Alex to make the relationship feel balanced. Alex is always going to be more comfortable "in the world" than Corbin but Corbin does more for Alex than be someone Alex takes care of and I was happy with the way things worked out.
There are some earthy sex scenes (though not many, which is fine) but overall the book had a sweet and whimsical feel to it. It's the kind of book which stays with you and which I expect will be richer on a re-read.
I do hope there is another book in this world one day. I'd like to know more about Gareth and Orin.
Grade: B+