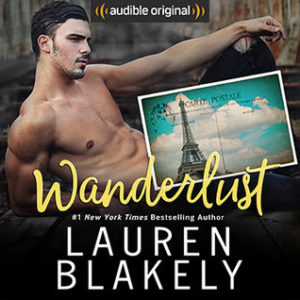 Why I read it:  Wanderlust is included in the #AudibleRomance package. Plus: Richard Armitage.

What it's about: (from Goodreads)  The first time I met him, his sexy British accent almost talked me into giving him my number on the spot. The second time, he nearly charmed the panties off me with his wit. Then I learned he's the key to success in my new job in Paris. The man who tempts me into fling-worthy dirty daydreams has turned out to be my personal translator, and his accent is the hottest thing I've ever heard.
My mantra is simple — Don't mix business with pleasure. I do my best to resist him as he teaches me how to converse with my co-workers, navigate the metro and order the perfect bottle of wine at dinner. But I also figure out how to tell the charming and clever man what I most want to say — that I want him to take me back to his flat — tonight.
Except there's a catch…
***
One more assignment before I take off on my big adventure…
And it involves the toughest work ever — resisting the fetching American woman I spend all my days with. But you know what they say about best intentions. Soon, we're spending our nights tangled together, and I don't want to let her go. The trouble is, my wanderlust is calling to me, and before we know it I'll be traveling the globe to fulfill a promise I made long ago.
What could possibly go wrong with falling in love in Paris? Nothing…unless one of you is leaving.
What worked for me (and what didn't):  Wanderlust was written for audio – or, at least, it was first published as an audiobook. (It's out in print now as well.) The introduction is about how Joy is a sucker for accents – and British accents are her kryptonite. So it's a very aural book and I expect it works best on audio. This is particularly so because Richard Armitage narrates the sections from Griffin's point of view.

And Richard Armitage reading a hot contemporary romance is something special let me tell you. I enjoyed his performances in the abridged Georgette Heyer novels a few years ago (he did Venetia, Sylvester and The Convenient Marriage) but Heyer books do not have oral sex in them. Or orgasms. Which is fine of course. But listening to Richard Armitage narrate a well-written explicit oral sex scene and discuss orgasms multiple times? If I could bottle it, I'd make a fortune. Best line in the entire book? Richard Armitage saying:
"Woman. I have orgasms to give you. Don't deny me."
His performance is a veritable orgy for the ears. For that reason alone, I recommend it on audio. He's also generally a very good narrator, bringing his considerable acting chops to the text in that transformative way great narrators can. I thought his female character voices had improved since I first listened to him narrate Venetia as well. He clearly committed to the role and it showed.
The narration of Joy's sections, by Grace Grant, didn't work quite as well for me. Some of those reasons will be obvious, no doubt. But mostly it was because the particular timbre of her voice came across to me often as less "flirty upbeat fun" and more "cynical snark". It's not so much that Ms. Grant performed it that was (though I expect there was at least a little of that). I do think the main reason was that she sounded a little older and jaded than the the character was supposed to be because that's the way her voice sounds (to me). In my head, Ms. Grant's natural character/narrative voice puts me in mind of a thirty-something career woman who's been around the block a time or two and won't be fooled again. Joy was a softer character than that and that created a bit of a disconnect for me. I expect my reaction was particular to me. There was nothing technically wrong with the performance. Ms. Grant's accents were good and I enjoyed her hero voice. It wasn't of course, Richard Armitage (to quote Highlander: there can only be one), but it was very good in its own right.
What else? I probably should mentioned something about the story. In many ways for me, Wanderlust was a vehicle to deliver Richard Armitage saying romantic and/or sexy words in my ears but it was also a good story too. Joy has a journey to recover from the fallout of a relationship which had turned toxic and manipulative and to find her own place in the world; to live her dreams and find her feet. Griffin's journey was mostly about learning to live with the grief he feels after the death of his brother the year before. They were very close and he was gutted by the loss. I don't want to say "recovering" or "moving on from" because that kind of loss isn't the sort of thing one recovers from or moves on from. One learns to live with it and, over time, it becomes easier. There is still joy and laughter and happiness to be had in life but there is also always the loss. I think the text specifically acknowledges this actually.

The conflict at the heart of the novel is that Griffin is always leaving Paris and Joy is planning to stay. She has a great career opportunity there and she's passionate about her job as a chemist in the cosmetics/fragrance industry. Griffin is leaving to run a marathon in Bali and then travel the world. At first the fact that they're working together (he's her translator) keeps them platonic but once they decide to go for it, they're basically perfect together. Except he's leaving. Almost their entire time together is in the knowledge that Griffin won't be staying. As Joy thinks, they're saying goodbye as they're learning each other. I liked the way it worked out. Both protagonists were smart, respectful and true to themselves; there were no big misunderstandings and there was no need for a big grovel scene; neither of them did anything requiring grovelling. Wanderlust wasn't a complicated or revelationary story but it was sweet, funny, charming and sexy and it had RICHARD ARMITAGE narrating. Enough said.
Grade: B+

BUY IT: