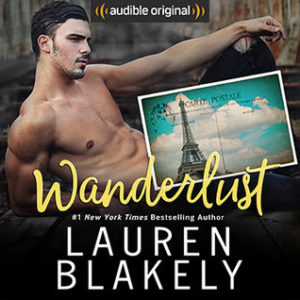 Why I read it:  Wanderlust is included in the #AudibleRomance package. Plus: Richard Armitage.

What it's about: (from Goodreads)  The first time I met him, his sexy British accent almost talked me into giving him my number on the spot. The second time, he nearly charmed the panties off me with his wit. Then I learned he's the key to success in my new job in Paris. The man who tempts me into fling-worthy dirty daydreams has turned out to be my personal translator, and his accent is the hottest thing I've ever heard.
My mantra is simple — Don't mix business with pleasure. I do my best to resist him as he teaches me how to converse with my co-workers, navigate the metro and order the perfect bottle of wine at dinner. But I also figure out how to tell the charming and clever man what I most want to say — that I want him to take me back to his flat — tonight.
Except there's a catch…
***
One more assignment before I take off on my big adventure…
And it involves the toughest work ever — resisting the fetching American woman I spend all my days with. But you know what they say about best intentions. Soon, we're spending our nights tangled together, and I don't want to let her go. The trouble is, my wanderlust is calling to me, and before we know it I'll be traveling the globe to fulfill a promise I made long ago.
What could possibly go wrong with falling in love in Paris? Nothing…unless one of you is leaving.
What worked for me (and what didn't):  Wanderlust was written for audio – or, at least, it was first published as an audiobook. (It's out in print now as well.) The introduction is about how Joy is a sucker for accents – and British accents are her kryptonite. So it's a very aural book and I expect it works best on audio. This is particularly so because Richard Armitage narrates the sections from Griffin's point of view.