Monthly Mini Review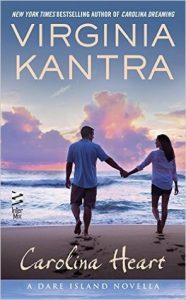 Carolina Heart by Virginia Kantra – C I've been a fan of the Dare Island series since the beginning. I was browsing Amazon recently, idly wondering what Virginia Kantra was doing and whether there might be a new book out soon (not that I could see alas) when I came across Carolina Heart and realised that I had missed it.
The story is novella length and it really would have benefited from some further expansion. Cynthie Lodge is a single mother with two daughters from two different dads. I liked how the author showed this heroine unapologetically as deserving a HEA too. She's perhaps the kind of woman one might easily judge. Certainly society most often does. So it was a lovely surprise to see her get her own book (albeit a novella) and to be treated sympathetically while being true to her story as well. She was married to the father of her first daughter but her second daughter was the result of a drunken one night stand with a soldier whose name she does not know. She loves her daughters and works hard to support them. She's studying at community college to be a dental hygienist and holding down a job at night waitressing. She's decided that she has to be a good example for her girls and has no time for men anymore. She won't be hooking up or bringing random men through her daughter's lives.
When she stumbles into the path of Max Lewis, she notes straight away he's good-looking. But, as a professor of marine biology and a man from a wealthy privileged background, he's not for her and she knows it. Besides, she's not getting involved in any relationships. She's too busy and she has her girls to think of.
Max was a prodigy student back in high school. One of those kids who was two years ahead of his grade. He was the dork, the nerd. He was picked on because of it. Cynthie was gorgeous then (and still is). He had a major crush on her. Plus, she was kind to him and that was fairly rare in high school.  Max doesn't judge Cynthie at all. He admires her grit and hard work. He likes the way she looks. He is impressed by her efforts to support her daughters and thinks she's an amazing mother. He's extremely respectful of her boundaries even while advocating for himself to spend some time with her. He fits in with her extremely busy schedule, finding ways to catch up for coffee as friends just because he wants to be in her orbit. He's always hopeful of something more but he doesn't push.
Over time, Cynthie begins to let her guard down and she and Max cautiously start a relationship. It is really her caution and the fact she's been burned before by men letting her down which is the conflict here. Max himself is completely unconflicted. Even when Cynthie is being sexually harassed by [redacted] he supports Cynthie but doesn't attempt to fight her battles for her. He knows she's her own woman. He realises he has an urge to "rescue" her but also realises that she doesn't need rescuing. She doesn't need him at all – at least, not for material or physical things. She does indeed come to need his love and care (but that feeling is mutual so it's all good).
The part where Max developed a relationship with her daughters and they deepened their own relationship is glossed over and that's the bit I was missing to be truly satisfied. The story was sweet and not without its charm, but there was too much unspecified for Carolina Heart to be as successful for me as other books in the series.
Coming Soon
on Audio
Reviews of these books will be up soon at AudioGals.
Links