Monthly Mini Review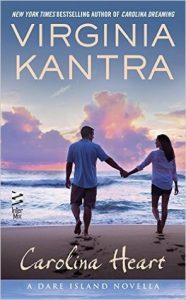 Carolina Heart by Virginia Kantra – C I've been a fan of the Dare Island series since the beginning. I was browsing Amazon recently, idly wondering what Virginia Kantra was doing and whether there might be a new book out soon (not that I could see alas) when I came across Carolina Heart and realised that I had missed it.
The story is novella length and it really would have benefited from some further expansion. Cynthie Lodge is a single mother with two daughters from two different dads. I liked how the author showed this heroine unapologetically as deserving a HEA too. She's perhaps the kind of woman one might easily judge. Certainly society most often does. So it was a lovely surprise to see her get her own book (albeit a novella) and to be treated sympathetically while being true to her story as well. She was married to the father of her first daughter but her second daughter was the result of a drunken one night stand with a soldier whose name she does not know. She loves her daughters and works hard to support them. She's studying at community college to be a dental hygienist and holding down a job at night waitressing. She's decided that she has to be a good example for her girls and has no time for men anymore. She won't be hooking up or bringing random men through her daughter's lives.
When she stumbles into the path of Max Lewis, she notes straight away he's good-looking. But, as a professor of marine biology and a man from a wealthy privileged background, he's not for her and she knows it. Besides, she's not getting involved in any relationships. She's too busy and she has her girls to think of.