Monthly Mini Review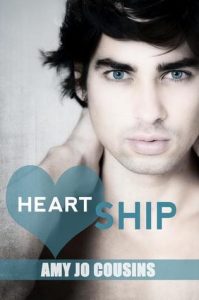 HeartShip by Amy Jo Cousins – B A sweet, mostly low-conflict novella about Josh, a college football player (he's heading into his final year and has been previously red-shirted so he's 25) and Benji, a 32-year-old massage therapy student who meet on an online fandom for RWBY, a (real) American anime series. After they meet online, they take their conversations to Twitter and catch up once a week to live tweet episodes of RWBY together. Benji's handle is "princessglitter" and he's never actually specifically stated he's a guy. Josh has never explicitly asked him. Benji assumes Josh thinks he's a girl. But it doesn't matter because Josh lives in Minnesota and Benji lives in Miami.
Until Josh, who has been sidelined due to a possibly football-ending injury decides to surprise his friend in Florida with a visit.
It's not a gay for you story. It's clear very early on that Josh has always known he's gay. He just hadn't come out yet, not even really to himself. However, once he meets Benji in person, their flirty online banter and the deep friendship they've developed spills over into physical intimacy. It's fair to say that Josh takes to gay sex like a duck to water and he barely has a qualm about coming out – even to his teammates back in Minnesota. I read it as a "show the world as you'd prefer it to be" kind of thing rather than (unfortunately) actually realistic. There is a little homophobia referenced but it's dealt with quickly and isn't a big feature in the story.
Josh and Benji are very sweet together. I did have to keep reminding myself that Benji was 32 because in many ways he felt a lot younger than that to me and Josh often came across as the more mature one for some reason. I had a bit of cognitive dissonance with it.
Josh and Benji have to navigate a long distance relationship but there is, apart from physical distance, very little keeping them apart. It works because the book is only short. The author unashamedly refers to this book as "fluffy" and it is – it's sweet and swoony and not at all heavy. The characters aren't developed deeply. There isn't really time. But what I saw I liked and, perhaps because they had been communicating for months before actually meeting IRL and perhaps because the books also (briefly) covers a fair period of time, I did believe in their HEA. Josh and Benji are clearly meant for each other. HeartShip was a fun feel-good sorbet; light and simple but with enough sizzle to make it interesting.
Coming Soon on Audio
Reviews of these books will be up soon at AudioGals.
Links