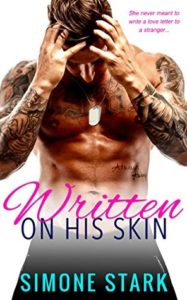 Why I read it:  One of my friends rated this one very highly and it was only 99c so I bought it.

What it's about: (from Goodreads)  Letters are magic, don't you think?
You could be anyone. I could be anyone.
And then, suddenly, we're more than anyone.
We're someone…
When Abigail Trent agreed to write a letter to a soldier deployed overseas, she expected it to be a fleeting exchange. A friendly back-and-forth that ended barely after it began. She didn't expect Theodore LaRoux.
It isn't strange that writing feels so good. It's right.
Here's my secret: I like making you feel good…
Abby didn't expect Roux to be a living fantasy, either–sexy, smart and strong enough to star in every one of her dreams. So, was it any wonder that when he asked for a photo, she sent one that would star in his dreams? The fact that it was a picture of someone else wouldn't be a problem. After all, it's not like they'd ever meet…right?
Wrong.

What worked for me (and what didn't):  I do have a soft spot for an epistolary romance. (This novella isn't only letters but they form a fair chunk of the story.) I did like the book but there were a few things I had to get over.

In seven tours of Iraq and Afghanistan as an Army medic, Special Forces operator and commanding officer, Sergeant Theodore LaRoux knew the drill.
Sergeants aren't commanding officers. There may be other errors as well – I only checked that one. Roux's military history didn't sound right. If accuracy and authenticity is important to a reader, Written On His Skin is probably not going to work that well.
The first letter Roux gets, completely out of the blue, from Abby draws a strong reaction from him. He basically falls for her then and there and decides she's "his" and they are meant to be together. And Abby falls in love right back in pretty much the same way.
She shouldn't have read the letter.

It made her fall even more; that perfectly flirty, incredibly flattering, totally sexy letter made her want to climb into his lap and live there. Forever. He'd even complimented her pets. He was obviously perfect.
I admit I rolled my eyes hard. Normally, I'm not a fan of inaccuracy and instalove. But I decided to give it a few more pages. And it was totally worth it.
While the plot was over-the-top, the writing was pretty good and didn't take itself too seriously.
He shouldn't ask. They had barely been together for an hour. He should take her to dinner. He should buy her flowers. He should try to be a gentleman. He could be a gentleman. "How did you make me come?"

Apparently, he could not be a gentleman.
Some of the writing drew such a solid word picture for me that I forgot the problems I had with the story and just went with it.
He woke slowly – slower than he'd woken in longer than he could remember, his senses coming online like his grandmother's old television, everything a little hazy and uncertain until the picture came into view.
Abby is described as "chubby". Her sister, Kelly is thin and beautiful with a husband and child. Abby lacks body and social confidence and, once Roux sends her a photograph, she's convinced if he knew what she looked like, he could never want to be with her. I was sad for her that she felt that way about herself. I didn't find her whiny or pathetic. She felt overshadowed by her beautiful sister and experience had taught her that between the two of them, most guys didn't give her a second glance. There is definitely more than a little wish fulfillment/fantasy about this story. Roux loves her before he sees her and when he sees her he adores what he sees and thinks she is completely perfect in all the ways. He is so gone over her and instantly devoted. That's a powerful fantasy for anyone who felt they weren't good enough – and I admit I spent a bit of time in my life thinking just that. Perhaps that's partly why I was able to put the other things aside so easily. That and the good writing.
"You're so warm," she said, tucking herself into the crook of his arm—a spot he'd never noticed was empty until the moment she filled it.
Even though the book is under 100 pages, the characters were fleshed out and I had a good handle on who they were. I enjoyed Roux's Cajun heritage and the French words he threw into conversation. Little things, like the way he liked his coffee (with chicory), created a really clear picture in my mind. Similarly, Abby wears punny animal t-shirts and small things like that told me a lot about her.
The sex, when it happens is hot and dirty (in a good way) and the orgasms are strong and plentiful. I did mention fantasy and wish-fulfillment didn't I? 😀
What else? Part of me thought I shouldn't like it as much as I did because, as I said above, I'm not generally a fan of the instalove and world-building matters to me. But despite my hesitations over the plot the writing and the characters more than got me over the line.
It won't be a book for everyone I expect and those who enjoy instalove will probably like it better than I did but there was plenty in there for readers like me to enjoy. I will be looking out for Ms. Stark's next book (which I can hope will have a richer plot) because she's got talent.
Grade: B