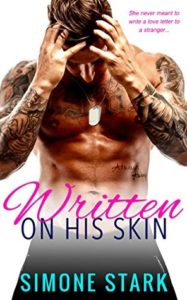 Why I read it:  One of my friends rated this one very highly and it was only 99c so I bought it.

What it's about: (from Goodreads)  Letters are magic, don't you think?
You could be anyone. I could be anyone.
And then, suddenly, we're more than anyone.
We're someone…
When Abigail Trent agreed to write a letter to a soldier deployed overseas, she expected it to be a fleeting exchange. A friendly back-and-forth that ended barely after it began. She didn't expect Theodore LaRoux.
It isn't strange that writing feels so good. It's right.
Here's my secret: I like making you feel good…
Abby didn't expect Roux to be a living fantasy, either–sexy, smart and strong enough to star in every one of her dreams. So, was it any wonder that when he asked for a photo, she sent one that would star in his dreams? The fact that it was a picture of someone else wouldn't be a problem. After all, it's not like they'd ever meet…right?
Wrong.

What worked for me (and what didn't):  I do have a soft spot for an epistolary romance. (This novella isn't only letters but they form a fair chunk of the story.) I did like the book but there were a few things I had to get over.

In seven tours of Iraq and Afghanistan as an Army medic, Special Forces operator and commanding officer, Sergeant Theodore LaRoux knew the drill.
Sergeants aren't commanding officers. There may be other errors as well – I only checked that one. Roux's military history didn't sound right. If accuracy and authenticity is important to a reader, Written On His Skin is probably not going to work that well.