Monthly Mini Review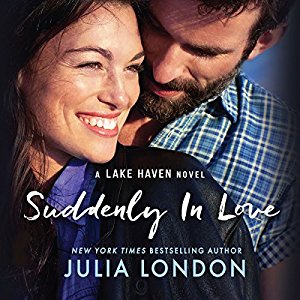 Suddenly in Love by Julia London, narrated by Cristina Panfilio – B+ I recently listened to Suddenly Engaged and loved loved loved it. I bought the other audiobooks in the series immediately because I had found a great new narrator and wanted more. Each book in the loosely linked Lake Haven series stands alone well so it hasn't been a problem to listen out of order. Suddenly in Love is actually book 1. Mia Lassiter returns to East Beach near Lake Haven from New York, her dreams of being the next big thing in the art world having crumbled to dust. She's broke and living with her parents and trying to work out what's next. Taking a job with her aunt and uncle in their design business, she is spending time at Ross House, a lovely house with hideous decor which has just been purchased by Nancy Yates. Mia's aunt is quoting for the refurbishment and Mia is helping with the task. She comes across what appears to be a bum (he's unkempt and smelly) who turns out to be Nancy Yates's son, Brennan.
Brennan is actually Everett Alden, an international rock star and the lead singer of the band Tuesday's End. He's at a similar crossroads to Mia, albeit he's not broke. Mia's straight talking helps him to sober up and have a shower and put on clean clothes – which results in a much-improved Brennan.
Mia is a free spirit, with a quirky artistic aesthetic which many people just don't get. Brennan does however. And, for his part, he finds that Mia can put her finger on things he struggles to define. She "gets" him. It's a powerful attractor. I loved Mia. She's brave and original and funny. One of Brennan's best traits was that he didn't try to change her at all. So many people in Mia's life want her to be "normal". Brenna likes her just as she is.
The central conflict is that Brennan omits the pertinent information of his alter-ego. I get that for Brennan, relating to Mia without the baggage of his rock god persona was a boon and something he didn't want to end but it also had consequences for Mia. I thought it probably went on a little too long but Brennan does good grovel.
I loved how the book ended, with compromises on both sides but definitely without Mia having to give up what was important to her.
There were a couple of things which felt like they were left hanging a little; I'd have liked to have seen more of Mia's artistic journey for instance and I'd have liked Brennan to have a conversation with his mother about his dad. Also there was something in Mia's past which I had been expecting to become a big deal in the present but which did not. Then again, I suppose real life is messy and perhaps these things make the book more authentic.
The narration was again, stellar. Ms. Panfilio's comedic timing and Julia London's words are a wonderful match. Not only that, Ms. Panfilio delivered all the other emotions in the story and her characterisations were excellent. I like her narrations so much that I've just gone and wishlisted a number of books at Audible purely on the strength of her name being attached to the work. I'm saving Suddenly Dating for when I need a pick me up listen – although I may not be able to wait that long!
BUY IT:
AMAZON
Coming Soon
on Audio
Reviews of these books will be up soon at AudioGals.
Links