Monthly Mini Review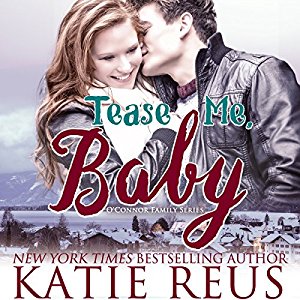 Tease Me, Baby by Katie Reus, narrated by Sophie Eastlake – B Katie Reus usually delivers a reliably entertaining story in novella length – although I'm more used to her romantic suspense books and this one is a straight contemporary. However, my confidence was not misplaced. Added to that, Sophie Eastlake narrates and she is excellent and always elevates a story for me.
Fallon O'Connor is the youngest of four siblings. Her three older brothers have all had distinguished military careers. Fallon has found it hard to settle into a career and feels she is the under-performer of the family. She has a business degree but she's not really using it. She came back to Holly, her home town, the year before and has been doing some freelance baking. As the story begins, she is two weeks away from leaving for California and culinary school. She feels conflicted about going. Culinary school is not so much a long-held dream as something she thinks she ought to do to be a proper grown-up.
Holly's sheriff, Brad Fulton, has had a thing for Fallon since he first met her the year before. Until she jumped him in the pantry at a Christmas party and kissed the life out of him, he hadn't been sure she was interested in him. Now it's Valentine's Day and she's been avoiding him since Christmas. It's time for him to make his move. Only, when he finds out she is due to leave in only two weeks, he expedites his plan. He is unfazed by the prospect of a long distance relationship if necessary; he knows she is it for him.
Fallon has always crushed on Brad but she thinks she is not a good fit for him. She doesn't call him "boy scout" for nothing. But she finds out he is a little wild under the surface and things heat up for them pretty fast.
I liked the way the story played out. Issues around Fallon's career were taken seriously and I felt that she made the right decision for her in the end. I also liked the compromises Brad was prepared to make and that they weren't just lip service. Their chemistry was smoking hot and the story was a fun and sexy romance, no less entertaining for it's brevity. As usual, Sophie Eastlake delivered in the narration, adding to my enjoyment. It was under $5 for the audiobook and totally worth my money.
BUY IT:
AMAZON
Coming Soon
on Audio
Reviews of these books will be up soon at AudioGals.
Links