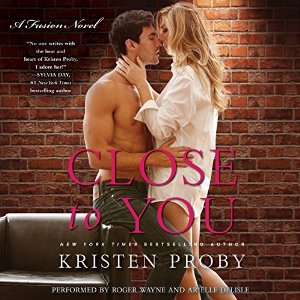 Why I read it:  This is one from my own TBL.

What it's about: (from Goodreads)  Camilla, "Cami," LaRue was five years old when she first fell in love with Landon Palazzo. Everyone told her the puppy love would fade—they clearly never met Landon. When he left after graduation without a backward glance, she was heartbroken. But Cami grew up, moved on, and became part-owner of wildly popular restaurant Seduction. She has everything she could want…or so she thinks.
After spending the last 12 years as a Navy fighter pilot, Landon returns to Portland to take over the family construction business. When he catches a glimpse of little Cami LaRue, he realizes she's not so little any more. He always had a soft spot for his little sister's best friend, but nothing is soft now when he's around the gorgeous restaurateur.
Landon isn't going to pass up the chance to make the girl-next-door his. She's never been one for romance, but he's just the one to change her mind. Will seduction be just the name of her restaurant or will Cami let him get close enough to fulfill all her fantasies?
What worked for me (and what didn't):  The long-time crush Cami had on her friend Mia's older brother, Landon, was referenced in Listen to Me, which I listened to a little while back. Landon was a navy pilot and when Close to You begins, he has been discharged from the military after having to eject from his fighter jet. It was never specified exactly why, but the result of the accident was that he was unable to ever fly (as a pilot) again. He loved to fly so this was a huge blow to him. He comes home to Portland to lick his wounds and work out what he's going to do with the rest of his life. He had planned to stay in the navy for life but after 10 years, that dream is over. Understandably, he is not the happiest camper when he first comes home.

Cami is a bit of an unusual character. She is an accountant by trade and is the financial officer for Seduction, the restaurant co-owned by the five friends about whom the series revolves. She had crushed on Landon since she was a girl but he never seemed to see her as anything other than a pseudo-little sister. (Landon (of course) had noticed Cami romantically before but when he was in his early 20s and she was 17, she was too young for him. As it happens, he joined the navy to get away from her so that he wouldn't rob the cradle.) Cami had kept up correspondence with Landon and they had a very close friendship before and after he joined up. But when Cami married Brian, Landon told her he didn't think it was okay for them to keep writing to each other anymore and she has only seen him briefly when he's home on leave for the past few years. Cami's marriage to Brian imploded when Cami came to the realisation that she didn't love Brian the way a wife ought to love her husband. She asked for a divorce and after some initial angst, they have since become solid friends. And, to her friends' amused irritation, she insists on trying to set Brian up on dates (including with them) to try and get him his own HEA.
When Landon comes home he realises that the five year age gap is now a non-issue and he decides it's time to show her how he really feels. They start dating and after a while, they get their HEA. There really isn't any significant conflict in the book. There is nothing keeping them apart. When they would have a conflict, they would, like mature adults, have a conversation about what was going on and how they really felt and things were quickly resolved. I'm glad of this because the alternative is the big misunderstanding which is something I don't often enjoy. That said, when everyone is behaving themselves it doesn't lead to great tension in the story. I kept waiting for the other shoe to drop, but in terms of the relationship, it never did.
Cami had some fears about whether Landon would be happy to settle in Portland or whether he'd want to roam around. She's happy where she is and devoted to her friends and the restaurant so she doesn't want to go anywhere (apart from for holidays) but Landon has traveled the world with the navy. Will he be happy to stay? That could have been the conflict but again, because of mature, intelligent characters who actually talk to each other, it wasn't.
Even though it was very low conflict and ultimately a story about a couple falling in love with little standing in their way (as, I suspect, many real people experience) it was still entertaining enough. I expect one of the reasons I didn't become bored (apart from the waiting for the other shoe to drop thing) was that the narration was quite good. Arielle de Lisle has a different character voice for each of the five friends and I enjoyed her expression and delivery of tension, intimacy and emotion. Roger Wayne was pretty good also. His female character voices weren't as strong – I felt they were a bit too cutesy – but other than that, I had no complaints.
What else? Spoiler alert.

Spoiler
Later in the book, Cami unexpectedly falls pregnant and then loses the baby. Pregnancy loss is a hot button for me. It's difficult for me to read and, if I know going in that's a part of the story, very often, I will skip the book altogether. Here it happens in the last quarter/fifth of the book so it was never going to be in the blurb. (I picked what was going to happen given the timing of various things but that didn't mean it had no impact on me.) The pregnancy loss didn't even have a profound effect on the relationship so from a story perspective, I'm not sure why it was there.
Apart from that I don't like to read this particular thing, I didn't like how it was treated. Cami and Landon were initially very upset but after that, it was mostly glossed over and it felt a bit like lip service. Cami and Landon got married a mere two weeks after she lost the baby and had major emergency surgery. It felt shoe-horned into the story for feels but I don't think the author really did the topic justice.
[collapse]
The narration was solid, the story was (mostly) entertaining, even if lacking in any serious conflict or tension. Apart from the bit near the end which I Did. Not. Like, Close to You was an enjoyable listen.
Grade: B-