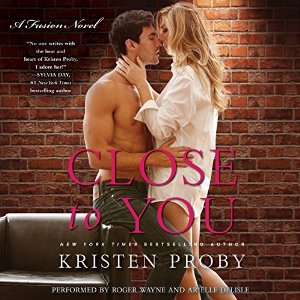 Why I read it:  This is one from my own TBL.

What it's about: (from Goodreads)  Camilla, "Cami," LaRue was five years old when she first fell in love with Landon Palazzo. Everyone told her the puppy love would fade—they clearly never met Landon. When he left after graduation without a backward glance, she was heartbroken. But Cami grew up, moved on, and became part-owner of wildly popular restaurant Seduction. She has everything she could want…or so she thinks.
After spending the last 12 years as a Navy fighter pilot, Landon returns to Portland to take over the family construction business. When he catches a glimpse of little Cami LaRue, he realizes she's not so little any more. He always had a soft spot for his little sister's best friend, but nothing is soft now when he's around the gorgeous restaurateur.
Landon isn't going to pass up the chance to make the girl-next-door his. She's never been one for romance, but he's just the one to change her mind. Will seduction be just the name of her restaurant or will Cami let him get close enough to fulfill all her fantasies?
What worked for me (and what didn't):  The long-time crush Cami had on her friend Mia's older brother, Landon, was referenced in Listen to Me, which I listened to a little while back. Landon was a navy pilot and when Close to You begins, he has been discharged from the military after having to eject from his fighter jet. It was never specified exactly why, but the result of the accident was that he was unable to ever fly (as a pilot) again. He loved to fly so this was a huge blow to him. He comes home to Portland to lick his wounds and work out what he's going to do with the rest of his life. He had planned to stay in the navy for life but after 10 years, that dream is over. Understandably, he is not the happiest camper when he first comes home.