Monthly Mini Review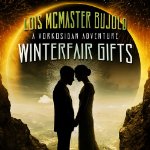 Winterfair Gifts by Lois McMaster Bujold, narrated by Grover Gardner B+  This novella length audiobook follows a few months after the events of A Civil Campaign. Miles and Ekaterin are just about to get married at Winterfair (a kind of Barrayaran Christmas). Gifts are arriving and so are wedding guests. Roic, one of Miles' armsmen is feeling like a bit of a failure after the shamozzle with the butter bugs and the Escobaran bounty hunters. He thinks Armsman Pym hates him and Miles thinks him incompetent. Roic also serves as the narrator of the story. Dendarii mercenary and former lover of Miles, Taura, arrives for the wedding. Roic grew up in the back country and hasn't seen anyone like Taura ever. Of course, as she is the only one of her kind left, no-one else has either, but Taura makes a big impact on Roic. When Ekaterin falls ill before the wedding, Roic and Taura combine forces to work out what has caused it and save the day.
I was happy to catch up with Taura and find out where she's at. And Roic is a nice guy who was put in a pretty difficult situation in A Civil Campaign. In the circumstances, I thought he had done well then actually. But I understand why he thought he had failed. (That entire scene was hilarious but also embarrassing for both him and Miles.) Still, I was glad that Roic had the chance to redeem himself in his own eyes. Miles' special talent is picking good people of course so no-one ought be surprised.
Miles and Ekaterin get married. Yay. Roic gets laid. More yay!
Grover Gardner delivers as usual in the narration department. A short story – only about two hours listening time but a must for all series lovers.
BUY IT:
AMAZON
Coming Soon
on Audio
Reviews of these books will be up soon at AudioGals.
Links