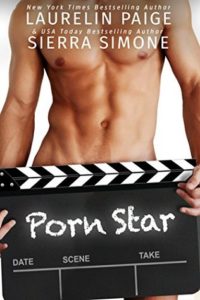 Why I read it:  This was a 99c special I picked up recently. The blurb intrigued and as some of my friends had read and liked it, I bought it.

What it's about: (from Goodreads)  You know me.
Come on, you know you do.
Maybe you pretend you don't. Maybe you clear your browser history religiously. Maybe you pretend to be aghast whenever someone even mentions the word porn in your presence.
But the truth is that you do know me.
Everybody knows Logan O'Toole, world famous porn star.
Except then Devi Dare pops into my world, and pretty soon I'm doing things that aren't like me―like texting her with flirty banter and creating an entire web porn series just so I can get to star in her bed. Again. And again.
With Devi, my entire universe shifts, and the more time I spend with her, the more I realize that Logan O'Toole isn't the guy I thought he was.
So maybe I'm not the guy you thought I was either.
What worked for me (and what didn't):  While I don't generally like "cheating" in my romance, I don't consider an open relationship where every party involved knows the score to be cheating. So I didn't necessarily require Logan and Devi to give up doing porn with other co-stars in order to feel satisfied about the HEA. I was, however, very curious as to how the authors would pull it off (heh) and whether I'd be convinced by it. I can assure readers that there is a HEA here and it is indeed very satisfying. It is a little unconventional perhaps  (and here, I actually mean unconventional in the not-code for non-HEA sense) but it is nowhere near as unconventional as I was expecting in the circumstances. They are porn stars after all and given all the places this story could have gone, in the end, it was still a boy meets girl, boy and girl fall in love, boy loses girl, HEA – just with some erotic packaging.

There's an author note at the back that states both authors are big fans of porn but are not blind to the various problems within the industry. Overall, I thought they did a fairly good job of showing both the positives and negatives within the story without it becoming didactic or preachy. Certainly, it was easier for me to enjoy knowing that both Logan and Devi preferred working with producers (or being producers) of porn which was produced ethically, where consent was given appropriate primacy and where diversity was also centered. That said, I will admit my own knowledge of porn is very limited indeed so I can't state with any authority that it was a realistic portrayal either.
At one stage I was a little worried that Logan was at least loosely modeled on James Deen who I do know has had a stunning fall from grace. I admit that my mind kept wanting to put his face onto Logan's but that may be because his name is just about the only one I know in the porn industry. Still, it did seem that there were similarities between the two men, not least of which was their physical descriptions. However, there was mention in the text of another famous male porn star who had been disgraced with allegations of rape and sexual assault and I wondered when I read that bit whether that guy was supposed to be the James Deen character. I guess readers more familiar with the industry and the various people within it are in a better position to judge than I am.
Even though the book is (of course) heavy on sex (not all of it between Logan and Devi; both engage in scenes with other actors during the course of the book – if that is a deal breaker for you, don't read it) it is also remarkably sweet, romantic and occasionally funny. I liked Logan's relationship with his cameraman, Tanner. It was a genuine friendship as well as a professional relationship and actually, I wouldn't mind a story for Tanner either (hint hint).
Devi is of Iranian-American ethnicity. She is described (by herself if I'm not mistaken) twice in the book as "exotic" and I wasn't sure whether this is actually authentic or not. I know that word is often (usually?) a red flag to readers looking for sensitive portrayals of diversity. I don't feel qualified to talk about whether the use of the word at all was a problem in this book but I mention it in case it is something readers want to know. I also don't know the ethnicity of the authors (I suppose I could look it up but I'm lazy). What I did like was the use of Persian stories and mythology in the book as metaphors for Devi's and Logan's relationship. It gave the book something extra and was another point of difference when compared with many erotic romances I've read. Overall, in my judgement (which may well be flawed – I am, after all, white), the pluses in this outweighed any negatives.
What else? The book was also a lot deeper than I was expecting. Ultimately, the philosophies that Logan and Devi end up sharing in their HEA align remarkably well with mine – even though I don't perform any of it in front of a camera while naked.
There have been times when loving each other— choosing each other over and over again— means repeated sacrifice and the occasional bout of suffering.

The reward, though, is worth it.   Every fucking time.
It's that "choosing each other" bit that particularly struck a chord in me. I do think that there is an element of continual courtship in successful relationships and I think there is also an element of continual sacrifice as well.
I was expecting a bit of a dirty, sexy read and what I got was that but also much more than that – always a bonus.
Grade: B-