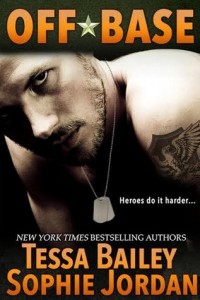 Why I read it:  I saw some buzz about this one on Twitter, including that the hero of the Tessa Bailey book was a virgin, so I pre-ordered it.

What it's about: (from Goodreads)  OFF BASE: Kenna and Beck By Tessa Bailey
A welcome home he never expected…and will never forget…
When Kenna Sutton is tasked with driving home newly returned Beck "True Blue" Collier, she expects the strategic Army mastermind to be a pasty number cruncher. Never at a loss for words, Kenna is nonetheless rendered speechless by the gorgeous, inexperienced and tightly-wound Army major that lands in her passenger seat. Outraged by Beck's lack of a welcome home after seven long years overseas, Kenna takes matters into her own hands, giving Beck something he's only ever fantasized about in his bunk.
Beck has never shied away from a test of will and Kenna gives new meaning to the word challenge. One problem? Kenna's father is the lieutenant general presenting Beck with the Silver Star and Beck is determined to treat Kenna with the respect she deserves, even if her eyes beg Beck to act out his most secret desires with her. Desires he's always been told were the work of the devil. But how long can one lonely, starving man hope to resist the woman he craves?
What worked for me (and what didn't):  While Beck is a virgin, he's not shy and he's not reticent. (In my opinion, this is the best kind of virgin hero!)  He had been dating a girl from his hometown who was a pastor's daughter and they'd decided to "wait".  When she broke up with him while he was deployed, he didn't have the inclination to change his status and so he ended up a 26 year old virgin.
Kenna's mother had a reputation on base as a "loose woman" and it amuses Kenna to dress in short skirts and tight tops but never, ever, put out on base. Her dad is Lieutenant General Sutton and no soldier has been prepared to try his luck with the beautiful daughter of the commanding officer – although they like very much to look.  Kenna gets her itch scratched off base when the need arises.  She has a complicated relationship with her (now divorced) parents.  She has never measured up to their expectations, although she has mostly moved beyond acting out for attention.   When she picks Beck up per her father's request, she is struck by how strongly she feels about the fact that there are no family or friends welcoming him home.  It doesn't hurt that he's built and gorgeous but I think what strikes her the most is Beck's almost completely successful efforts to look her in the eyes and not look her over. In fact, she makes her best efforts to try and draw his eyes to her chest and behind so he can be neatly categorised as "just like all the other guys".  It so happens she gives him a special "welcome home", but the emotional connection between them scares her and she rabbits.
Beck, for his part, is certain that the kind of connection he experiences with Kenna is more than just physical. And, the physical experience is way better than he had dreamed of. Kenna is not only accepting of his wilder desires, she revels in them. But it is Kenna herself who fascinates him.
He'd always figured his first time would be a necessary evil, a jumping off point after which he'd get better. Learn how to please a woman. But Kenna, she'd been pleased. More than that, she'd given him a glimpse at her vulnerability. He hadn't expected that, and the woman beneath had addicted him more than sex ever could.
He loves the way she looks and he loves her confidence and even her sexual experience but he doesn't think of her as a slut.  Even when he is hesitant to be a little rough and she encourages him to do his worst and let his inner wild man free, he does not think of her in a slut-shame-y way.  He is pleasantly surprised and delighted.  This was perhaps my favourite part of the story. The sex was scorching hot but I enjoyed very much how Ms. Bailey played with the "good ole Georgia farmboy virgin" trope (if that wasn't an actual trope before, it is now) and made him far more than a stereotype. Beck wasn't afraid to go for what he wanted and his innate respect for women didn't trip him up when it came to sex or feminism.  

Beck "sees" Kenna.  He notices things.  He observes her interaction with her dad and her stepmother and theirs with her.  He pays attention to Kenna's expressions and her keepsakes and identifies what is important to her and quickly clues in why.  He is a master strategist for the army and he uses those skills in his quest to get Kenna to risk her heart on him.
My complaint about the story is the timeframe in which it takes place. Beck is in town for mere days.  While I liked him and Kenna together, it was all a bit fast for such a life changing decision at the end and it strained my credulity a little too much.  Having said that, the rest of the story was strong and sexy and a little subversive so I decided to enjoy it anyway.
Grade: B

***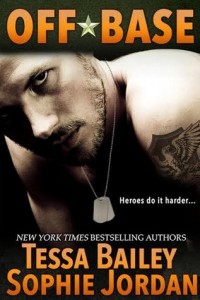 What it's about: (from Goodreads) OFF BASE: Huntley and Cullen By Sophie Jordan
Being a good girl has its drawbacks…
Huntley Collier, an emergency room nurse and all-around do-gooder, is tired of living in the friend zone. Cullen Brooks was given the job of babysitting Huntley when her brother – his best friend – deployed. But their friendly coffeehouse hangouts and TV marathons leave her wanting more. When one crazy night leads to too many drinks and an explosion of long-denied lust, Huntley's dreams become a reality. And reality is one hot, wild place she never wants to leave.
But only a good girl can bring down a bad boy…
Known as Sullen Cullen around Black Rock, Cullen Brooks doesn't have many friends, but Huntley is one of them … and despite his decidedly unfriendly fantasies of the curvy blonde, she is far too sweet for his darker tastes. Keeping his hands off is easier said than done, however, when demure, little Huntley responds to his touch like the wildcat he never expected…and can't stop pursuing, despite his better judgment. But when Cullen suddenly faces losing her, will this bad boy risk it all to keep his good girl?
What worked for me (and what didn't):  Huntley Collier is Beck's (see above) brother. When Beck left for deployment, he asked his best friend Cullen to "look after" her. For six years, this looking after has been a very close friendship. They often hang out together, watching tv and laughing, having dinner or drinks.  Huntley has had a crush on Cullen forever but he's a bit of a manwhore and, apparently, not looking for a relationship.

Because reasons, they end up exploring a physical relationship.  It is eye-opening for him and all Huntley had ever hoped for.  Cullen doesn't want to lose his friend and Huntley is sure he would not want a relationship with her, even though she'd like nothing more.  There is an element of "big mis" here because they don't really have a clear conversation with each other until right near the end of the novella.  Both make assumptions and react based on them rather than actually having a conversation. I can cope with this better in a short than a full length book and, even though it's not my favourite trope, I did understand the choices the characters made here to not fully expose their vulnerabilities to one another.
I liked the way Huntley was drawn and how she'd decided, at the start of the story, to stop crushing on Cullen and actually get herself a life. She'd joined a dating website. She was taking charge of her future and not waiting around. She was making decisions which were right for her and not based on what others expected of her.
The chemistry and connection between Huntley and Cullen was very strong and the sex was also smoking hot – after such a close friendship for six years, I didn't really have an issue with them moving forward with their relationship very quickly after things got physical.  Where I struggled was with Cullen's motivations – there was a link for me which was missing.  Why did he suddenly decide he could be good for Huntley when he'd been so very convinced he was all wrong for her?  Why did he decide to try when he thought he was incapable of being a good partner? Cullen makes the shift from "I'm not relationship material" to "let's get married" remarkably fast and I had a bit of whiplash over it. The narrative didn't support his quick change of mind sufficiently for me.
Nevertheless, both stories were entertaining and duology was well worth my time and money.
Grade: B-