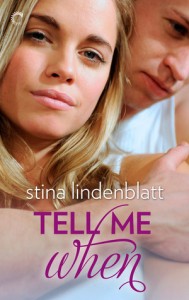 Why I read it:  This was a Dear Author Daily Deal I picked up for 99c. I have a thing for the rescue trope.

What it's about: (from Goodreads)  Amber Scott should be enjoying life as a college freshman. She should be pursuing her dream of becoming a veterinarian. She should be working hard to make sense of her precalculus math class.
She shouldn't be waking up her college roommate with screaming nightmares. She shouldn't be flashing back, reliving the three weeks of hell she barely survived last year. And she definitely shouldn't be spending time with sexy player Marcus Reid.
But engineering student Marcus is the only one keeping Amber from failing her math course, so she grudgingly lets him into her life. She never expects the king of hookups will share his painful past. Or that she'll tell him her secrets in return, opening up and trusting him in a way she thought she'd never be able to again.
When their fragile future together is threatened by a stalker Amber thought was locked away for good, Marcus is determined to protect her. And Amber is determined to protect Marcus…even if that means pushing him away.
What worked for me (and what didn't):  Tell Me When had a strong start but it stuttered for me toward the end.  The last third became just too over the top for me and the added melodrama ended up making what was looking to be a B a C.  Trigger warning: There is rape and torture referenced in the book.  It is not "lovingly described" or anything but what Amber experienced was horrendous, with just about every awful thing you can think of happening to her.  And then there was Marcus, who had his own traumatic background. 

Frankly, that was more than enough.  But by the end, secondary characters in the book were also being traumatised and it felt like a massive pile-on.
I don't mind a stalker plot in romantic suspense or contemporary romance, if it's done well.  I know other readers who are sick and tired of them.  If that's you, this book is not your catnip and I'd recommend avoiding it.  Here though, the stalker-stakes were (maybe paradoxically) not high enough to warrant the angst and tension of the story.
I felt that Amber's trauma wasn't whitewashed but there were times I felt she moved ahead with an unexpected ease given her PTSD.  Still, it's not a book where the magic wang is the cure-all so there's that. (Although, it could be argued that Marcus's own traumas are cured by "the love of a good woman". I hope he decides to get some counselling soon.  I have the feeling Amber might just convince him to do so.)
Marcus is a bit of a manwhore – he uses sex to medicate essentially, but when he starts to get to know Amber, a buried protective side comes out and he finds himself willing to risk his heart to have something more meaningful with her.  Those parts of the story were very sweet.
I could have used less of the jumping-to-the-worst-possible-conclusion-and-then-taking-a-week-to-sort-things-out business – that doesn't fill me with confidence in the maturity of the characters frankly and I'm  not a fan – even though Amber and Marcus were young, I still wanted better from them.
In the end, I think the story tried to pile more angst and trauma onto the characters rather than trusting the characters themselves to make a worthwhile story.  I was quickly invested in Amber and Marcus; I didn't need to be manipulated further to feel that way and as these things added up, I saw the authorial hand too much.
I admit I was kind of disappointed by one of the sex scenes. It felt a little pedestrian and tab A into slot B for me.
When he's positive I'm not going to break, he starts moving in and out, faster and harder until my body shatters around him, in a good way, and I cry out. He cries out seconds later.
What else? All that said, I really enjoyed the first half to two thirds of the story.  I liked Marcus' math geek jokes and I liked that he's clearly a very smart guy, not just a good looking one.  Amber and Marcus had things in common – including a shared love of and talent for basketball – and it was nice to read about a taller heroine with an athletic strong body.  Yes, this is a book which dials the angst to 11 – those who don't like angsty books with tortured heroes/heroines won't like it at all – but for readers, like me, who don't mind that kind of story every now and then, it certainly had a very strong start. Unfortunately, the book didn't manage to sustain that strength all the way through.  I had the sense that in a way, the author didn't trust the power of the story and so had to add more things into it.  Whereas, I think it would have been stronger and more elegant pared down a little and drawing the main characters a bit more deeply.

There was a lot to like in the book, particularly in the first half/two thirds so I'd definitely read more of this author's work and it was certainly worth my 99c.
Grade: C/C+