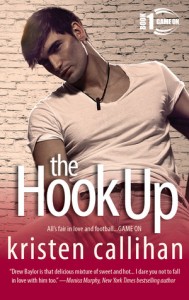 Why I read it:  My blogger friends were tweeting how good this book is so I asked the author for a review copy and she very kindly said yes. (yay!)

What it's about: (from Goodreads)  The rules: no kissing on the mouth, no staying the night, no telling anyone, and above all… No falling in love.
Anna Jones just wants to finish college and figure out her life. Falling for star quarterback Drew Baylor is certainly not on her to do list. Confident and charming, he lives in the limelight and is way too gorgeous for his own good. If only she could ignore his heated stares and stop thinking about doing hot and dirty things with him. Easy right?
Too bad he's committed to making her break every rule…
Football has been good to Drew. It's given him recognition, two National Championships, and the Heisman. But what he really craves is sexy yet prickly Anna Jones. Her cutting humor and blatant disregard for his fame turns him on like nothing else. But there's one problem: she's shut him down. Completely.
That is until a chance encounter leads to the hottest sex of their lives, along with the possibility of something great. Unfortunately, Anna wants it to remain a hook up. Now it's up to Drew to tempt her with more: more sex, more satisfaction, more time with him. Until she's truly hooked. It's a good thing Drew knows all about winning.
All's fair in love and football…Game on.
What worked for me (and what didn't):  I really liked this book.  A lot. Sometimes when friends tell me they're enjoying a book and I should get hold of it, I wonder if my expectations will have been built too high.  I'm kind of afraid of over-selling the book for that reason.  I don't want people to get promo fatigue and miss out on a great book. Because it totally met and/or exceeded my expectations.  I really loved it.

"Your voice isn't noise. It's a song I want to hear over and over."
Like a lot of New Adult books, The Hook Up is told in alternating first person POV.  My sense was that there was generally more from Anna – it's not quite a 50/50 split but there is plenty of both of them and I feel like I got to know each main character really well.
Anna was the overweight dork in high school. Nobody asked her out. She didn't go to prom. She had few friends.  Her mother called her a "late bloomer" but the scars of high school linger.  Also, Anna's dad walked out when she was very young and his (really shitty) reason was because he couldn't handle being a dad.  So at a very deep level, Anna is afraid of rejection.  She's comfortable in her body now – in the book she's compared to a 40's pinup model – but she's still very sensitive and prefers to stay out of the spotlight.  When Drew Baylor, football QB and college superstar sits next to her in a class in her senior year, she's compulsively attracted but also terrified of the attention he attracts.  There's a deep sense in the book that Anna is just waiting for Drew to realise she's wrong for him.  So, she waits for the other shoe to drop and tries to protect herself from what she thinks is inevitable.
Because the reader spends time in Drew's head, we know that Drew is gone over this girl from the very first.
Breathless, my head ringing, I could only gape. I'm not going to say it was love at first sight. No, it was more like oh, hell-yes-please, I'll have that. With a helping of right-the-fuck-now on the side.
He wants everything with her.  He doesn't look at other girls, He isn't tempted by anyone other than Anna. (What a powerful fantasy that is, right ladies?).  Anna, convinced that Drew could not possibly care deeply for her, insists on a hook up only but one becomes two and then it's a regular thing.  But there's no kissing on the mouth and even though they start spending time (apart from sex) together, Anna is very careful to hold herself back from Drew.
Drew isn't perfect.  He's smart and funny, talented and gorgeous but he makes mistakes too and that made him all the more relatable. He is hurt by Anna's rejection of a relationship with him and things do come to a head late in the book.
Drew is also vulnerable and I loved that it wasn't overplayed.  His parents died just after he graduated high school.  He has good friends in college but no other family.  He is alone.  In some ways, the vulnerabilities they both share (when they are both open about it – for Anna this takes a while) bring them together.  I could relate to this because it's the same with my husband and I.  We both have family and friends but we both felt that no-one had put us first before we met each other.  And it is such a powerful thing knowing that someone thinks of you first and that you can be that someone for him as well.
Once Anna gets it, she goes all in and she is FIERCE.  I liked both main characters very much and I loved them together. They have excellent chemistry and connection.  The sex scenes are steamy and sexy but don't overpower the story.
"I get like this every time I think about you." I lean in, smelling the warm spice in her fragrant hair and the lingering scent of sex on her skin. "I just had you, and I'm aching to be inside you, to make you come all over again. So don't tell me it's going to stop. Not when you're stroking me like that."
There's also plenty of flirting and dialogue as the characters get to know one another.  They spend a lot of page time together – basically, all of my favourite things.
I also loved the friendships between Drew and Gray and Dex and between Anna and Iris and George.  They weren't sequel bait, they made sense in the story and there was a strong feel that each had lives outside of the orbit of Drew and Anna, which I loved.
What else? I admit I would have liked to have seen a little more of exactly how Anna deals with the fame and spotlight which surrounds Drew.  I believed she would/did but I wanted to see a little more of the how of it rather than what basically amounted to a decision that she would handle it.

I admit that I wasn't bowled over by Ms. Callihan's first book, Firelight.  I just couldn't get into it and rated it about a C. But I loved The Hook Up and I already can't wait for the next in the series, The Friend Zone, which features Gray Grayson.
Grade: A-