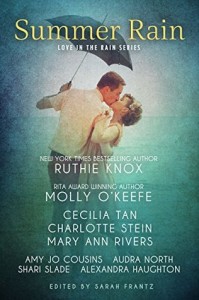 Why I read it:  This book of "novelettes" contains offerings by some of my favourite authors and proceeds go to a worthy cause.  Which is a bonus but not why I bought it. (Does that make me a bad person?)

What it's about: (from Goodreads)  What happens when love gets caught in the rain?
In this romance anthology, RITA-Award winning author Molly O'Keefe shows us the power of a city thunderstorm from the top of a skyscraper, while Amy Jo Cousins soaks us in a rain in Spain. New York Times bestselling author Ruthie Knox's heroine is devastated by a winter storm, while a summer thunderstorm grants Alexandra Haughton's hero and heroine a second chance at love. Rain sparks self-awareness in the robot in Charlotte Stein's story and allows Mary Ann Rivers's heroine to fall in love with her hero and her own art. Rain causes romance between the college students in Audra North's and Shari Slade's stories, while romance causes rain in Cecilia Tan's myth-inspired tale of a sacrifice to a demi-god. Nine romance novelettes, edited by Sarah Frantz.
All proceeds from the volume will be donated to the Rape, Abuse, and Incest National Network (www.rainn.org), the largest anti-sexual violence organization in the United States.
Note:  Some of the stories deal with issues of abuse, sexual and otherwise and/or violence.  Some readers might find them triggering to read/read about.
Redemption by Ruthie Knox:  There is a "Dear Reader" letter in the front of each of the novelettes.  Ms. Knox says Redemption is a sad story. And it is.  Both Jessie and Mike are sad. They've been beaten down by life and are just about at the end of their respective ropes.  Unfortunately and partly because the story is short, I found the characterisation, especially in relation to Mike to be a little thin and I didn't see what attracted him to her and from her side of things, what made him someone more than she wanted to have sex with. Because for a year, they didn't talk and he didn't smile and they didn't share anything important apart from some good sex and in the end, I didn't buy the commitment because I didn't see enough of those things within the story itself. The writing has a kind of haunting melancholy quality to it and there were parts which we quite lovely.  Short stories often work better for me when they are about people who already know each other. But this story seemed to take pains to tell me they didn't know each other that well really so I was left a little unconvinced.