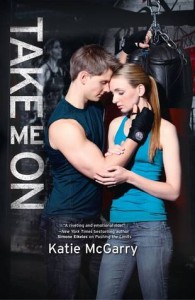 Why I read it:  I was provided with a review copy from the publisher via NetGalley.

What it's about: (from Goodreads)  Champion kickboxer Haley swore she'd never set foot in the ring again after one tragic night. But then the guy she can't stop thinking about accepts a mixed martial arts fight in her honor. Suddenly, Haley has to train West Young. All attitude, West is everything Haley promised herself she'd stay away from. Yet he won't last five seconds in the ring without her help.
West is keeping a big secret from Haley. About who he really is. But helping her-fighting for her-is a shot at redemption. Especially since it's his fault his family is falling apart. He can't change the past, but maybe he can change Haley's future.
Hayley and West have agreed to keep their relationship strictly in the ring. But as an unexpected bond forms between them and attraction mocks their best intentions, they'll face their darkest fears and discover love is worth fighting for.

*Spoilers for previous books in the series follow. Be ye warned.*
What worked for me (and what didn't):  I quite liked West in the previous book in the series, Crash Into You. West was good looking, a little cocky and therefore not perfect, but he also tries hard, in his own way, to help his family.  Unfortunately, he feels his actions always lead to disaster and he perceives himself to be a failure.  In fact, given that he was always told he was conceived in order to be a bone marrow match for his then-dying sister Colleen (he was not a match), he feels he has been a failure from birth.  He resents his dad, who spends almost all of his time working and most all of what attention is left over is for West's mum.  West wants his attention sure, but he also wants his dad to step up and be a more active dad.  Then maybe West won't feel like it's up to him to fix things for everyone.  Then maybe West won't muck up as much.    West is impulsive (which often gets him into trouble) and, after he gets into yet another fight at school, he is finally expelled.  His dad, fed up with the drama from West, confronts him, they have a nasty fight and West is thrown out.