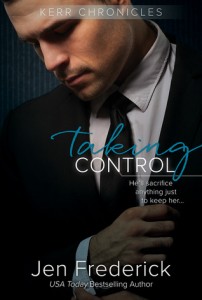 Why I read it:  One of my blogger friends had a review copy and, with the permission of the author, she shared it with me.

ETA April 2015: At the time I accepted/read the book and wrote the review, I didn't know Jen Frederick was also Jane Litte from Dear Author.  No Jen Frederick books have been reviewed by me, anywhere, since I became aware of this and, given my existing relationship with Jane, I will not be reviewing any more of her books.  I will continue to update my personal Goodreads account with all the books I read as per usual but, consistent with my review policy, there won't be further formal reviews of Jen Frederick's work.
What it's about: (from Goodreads)  I thought I needed only one thing in my life–the money and power to crush one man. But the moment I laid eyes on Victoria Corielli, my thirst for revenge was replaced by my craving for her.
No rule would keep me away; no obstacle too large to overcome. Not her will, not our differing social positions, not my infamous past. When she lost everything, I helped her pick up the pieces. When she trusted me with everything, she sealed her fate.
I've convinced Victoria she can put her heart in my hands. Now I have to protect it–from her shady stepfather and my business rivals, from enemies known and hidden. I'll do anything to keep her. And I might have to prove it, because now Victoria"s risking more than her heart to be with me; she's risking her life.
What worked for me (and what didn't):  After finishing Losing Control earlier this year, I was looking forward to the second and final part of the story, especially because I heard it was from Ian's POV.  (The book does have some sections from Tiny's perspective but most of it is from Ian's.)  However there were times I felt a bit "be careful what you wish for". It was apparent from the first book that Ian Kerr is a very alpha billionaire who goes after what he wants and always gets it.  Being in Tiny's perspective made his alpha-ness a little easier to take.  There were some occasions in this book where he crossed the line from commanding/demanding to creeper.