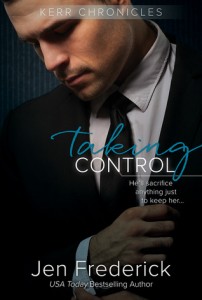 Why I read it:  One of my blogger friends had a review copy and, with the permission of the author, she shared it with me.

ETA April 2015: At the time I accepted/read the book and wrote the review, I didn't know Jen Frederick was also Jane Litte from Dear Author.  No Jen Frederick books have been reviewed by me, anywhere, since I became aware of this and, given my existing relationship with Jane, I will not be reviewing any more of her books.  I will continue to update my personal Goodreads account with all the books I read as per usual but, consistent with my review policy, there won't be further formal reviews of Jen Frederick's work.
What it's about: (from Goodreads)  I thought I needed only one thing in my life–the money and power to crush one man. But the moment I laid eyes on Victoria Corielli, my thirst for revenge was replaced by my craving for her.
No rule would keep me away; no obstacle too large to overcome. Not her will, not our differing social positions, not my infamous past. When she lost everything, I helped her pick up the pieces. When she trusted me with everything, she sealed her fate.
I've convinced Victoria she can put her heart in my hands. Now I have to protect it–from her shady stepfather and my business rivals, from enemies known and hidden. I'll do anything to keep her. And I might have to prove it, because now Victoria"s risking more than her heart to be with me; she's risking her life.
What worked for me (and what didn't):  After finishing Losing Control earlier this year, I was looking forward to the second and final part of the story, especially because I heard it was from Ian's POV.  (The book does have some sections from Tiny's perspective but most of it is from Ian's.)  However there were times I felt a bit "be careful what you wish for". It was apparent from the first book that Ian Kerr is a very alpha billionaire who goes after what he wants and always gets it.  Being in Tiny's perspective made his alpha-ness a little easier to take.  There were some occasions in this book where he crossed the line from commanding/demanding to creeper.
There were some things Ian thought that I really didn't want to know.

Seeing the lace and silk and satin that I've bought on her golden skin is as pleasurable as anything I've ever done. The cloth that covers her cunt and the ties that bind her breasts are all chosen by me, hand-picked and purchased. When her arousal wets the fabric between her legs, that's fabric that I've bought. She belongs to me.

Soon everything she wears will be purchased by my money. It's a crass sense of ownership I'm seeking. Fleeting too. She could leave me and take everything with her or leave it all behind, but for now, it thrills me to know that every part of her intimate, secret body is touched by something I've paid for.
To his credit (?) he does realise when he's crossing the line and for the most part he doesn't say that stuff out loud, which is good.  However, to be honest, there were some things I wish he'd not even thought.
There is a lot of sex in the book. The sex scenes are all well written and very hot but I confess after a while they seemed to get in the way of the story for me and I found myself getting impatient with it.
At the end of the first book, I could have sworn Ian asked Tiny to marry him and she said yes but it seems that scene was re-cast a bit because they don't start this book believing they're engaged.  Which I thought was odd.
I felt like there was less story in this book.  Basically, in this one, Tiny is getting over the death of her mother (something that will take a long time and will never be completely over anyway) and Ian is finalising his revenge on Richard Howe.  And there is some sequel bait for other heroes – Kaga is in love with Jake's little sister so things could get interesting there.  And it looks like things are shaking up for Steve as well. (I was very grateful there were no "sheilas" in this book.)
What was good was, when Ian wasn't being a creeper, his devotion to Tiny was obvious.  He will never stray from her because his interest in other women is absolutely zero.  There is no-one more important to Ian than Tiny and, let's face it, that is the fantasy of a lot of women (and probably men too) right there.  Ian will drop anything for Tiny.  Nothing is more important than her happiness and comfort.  It's an attractive proposition.  Even though I said that Ian can be a bit creepy, he does recognise that he can't get away with acting the Neanderthal and that Tiny will pull him up on it if he crosses the line.  He never thinks of her as a pushover, which I appreciated.
I liked the progression for Tiny in terms of her career aspirations and it was nice to see her reconnecting with her BFF Sarah.
I enjoyed the story but overall, thought it was a little thin plotwise and not quite as enjoyable as the first instalment of the series.  Still, the writing voice was very engaging and I can't say I wasn't entertained, because I was.
Grade: C+