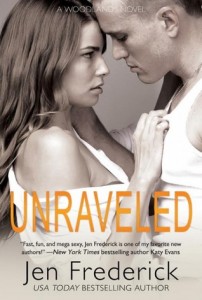 Why I read it:  I received a review copy from the author.

ETA April 2015: At the time I accepted/read the book and wrote the review, I didn't know Jen Frederick was also Jane Litte from Dear Author.  No Jen Frederick books have been reviewed by me, anywhere, since I became aware of this and, given my existing relationship with Jane, I will not be reviewing any more of her books.  I will continue to update my personal Goodreads account with all the books I read as per usual but, consistent with my review policy, there won't be further formal reviews of Jen Frederick's work.
What it's about: (from Goodreads)  Twenty-five-year-old Sgt. Gray Phillips is at a crossroads in his life: stay in the Marine Corps or get out and learn to be a civilian? He's got forty-five days of leave to make up his mind but the people in his life aren't making the decision any easier. His dad wants him to get out; his grandfather wants him to stay in. And his growing feelings for Sam Anderson are wreaking havoc with his heart…and his mind. He believes relationships get ruined when a Marine goes on deployment. So now he's got an even harder decision to make: take a chance on Sam or leave love behind and give his all to the Marines.
Twenty-two year old Samantha Anderson lost her husband to an IED in Afghanistan just two months after their vows. Two years later, Sam is full of regrets—that she didn't move with her husband to Alaska; that she allowed her friends to drift away; that she hasn't taken many chances in life. Now, she's met Gray and taking a risk on this Marine could be her one opportunity to feel alive and in love again. But how can she risk her heart on another military man who could share the same tragic fate as her husband?
What worked for me (and what didn't):  Gray Phillips was introduced briefly in Unspoken and represents somewhat of a departure in the series about the guys who live in the house in Woodlands.  Because, of course, Gray doesn't live there – but he does come to visit for the 45 days of leave he has in the summer.  His congressman dad pulled some strings for him to get that length of time off in a row and he has a decision to make – re-enlist in the Marines or separate and do… something else.  Gray was badly burned in a previous relationship – his then-girlfriend cheated on him during his second deployment in Afghanistan, with the local Marine Recruiting Officer no less and then she was diagnosed with syphilis.  So, he's not trusting and paranoid about sexual health and safety.  he has a few "friends with benefits" but they're not really actually friends.  As he describes in the book, he is basically a human dildo for the girls and while he clearly respects them, he doesn't actually have any real feelings for them either.

Samantha (Sam) Anderson married her high school sweetheart just before he was deployed.  Will's father and Sam's mother are law partners and they grew up together, with close friendship eventually morphing into love. Will was killed two months into his deployment and apart from the grief associated with his death, Sam continues to regret the time she didn't spend with him when she could have.  That is to say that Will asked her to come to Alaska with him for parajumper training and she stayed home, to be with her family and go to college.  Not going to Alaska is her biggest regret because she could have spent that time with Will and now she can't see Will ever again.
It has been two years since Will died and Sam is just starting to come out of hibernation.  When she sees Gray at the bar she works at, her hormones go on high alert and even though she had heretofore preferred shorter slimmer guys, very quickly she's changing her tune.  Gray is tall and built and she is in lust.
It takes a while for Gray and Sam to get together because of some misunderstandings (the first one caused by the fact that she's still wearing her wedding ring) – but thankfully, these misunderstandings are cleared up quickly.  Gray is only in town for the time of his leave and they agree to have a temporary relationship – it's too good not to explore.  Even though they use the word "temporary" it's clear to the reader and to Sam and Gray (even if it takes a while before they admit it to one another) that their connection and feelings for one another are far from temporary.
I enjoyed the way Sam's first husband Will was portrayed.  His mother remembers a fictional version of Will – the perfect son, forever in high school.  Sam remembers him as he was – a man she loved very much but who wasn't perfect either.  Will wasn't demonised and Gray was always respectful of him and his memory.  Even so, Gray wanted to be sure that when he and Sam were in bed, they were the only two there and there were no ghosts getting in the way or casting a pall.  Sam has been alone long enough and has grieved long enough. Of course a part of her will always grieve for Will but she is truly ready to move on and Gray is the right guy at the right time.
Bo and Noah feature fairly strongly in the story, with lesser roles from Adam, Mal and Finn (the other Woodland guys which don't yet have a story of their own).  I enjoyed the banter between Bo, Noah and Gray – it was often juvenile and, effectively about "my dick is bigger than your dick" in one way or another but it also seemed authentic to me.  They also have more serious discussions but whatever they are saying to one another, it is clear there is a strong bond of brotherhood between them.
I thought the conflict at the end was a little on the manufactured side.  A new character is introduced late in the piece to take the role of villain and things got messed up pretty fast.  That said, the 'event' did give both characters an opportunity to take stock of what they really wanted – with each other and in their lives and what was important and I liked very much that a) Sam had plans apart from Gray and was confident in her ability to survive if things didn't work out between them and that b) both Sam and Gray were prepared to make sacrifices for one another and both put the other first, while also not martyring themselves.  I was happy with the way things worked out because I do think both characters were objectively better off – and not just because of being with each other.
I think the military aspects of the story (although I'm no expert) were very well done and they felt authentic.  The challenges of being a military wife were explored, as well as what it takes for a relationship to work with an active duty Marine (or soldier, airman or seaman for that matter).
I feel like the books are getting stronger in that the pacing is swift, and the characters feel more strongly defined.  The sex also seems hotter to me.  Maybe it was just that Gray liked to talk dirty and be dominant in bed but boy howdy the sex scenes (and there were plenty of them)  were some fine work.
I read the book in about 24 hours – it held my attention and never dragged.  I felt like Gray and Sam were good for one another and there was even a daring rescue in there to please me.  I like the writing style very much and I'm looking forward to more from the Woodlands guys and Ms. Frederick.
Favourite Quote:
I loved his hands. There were callouses on the palm and white scar marks on the backs. When I looked at them I felt safe and when he put them on me, I felt excited. Those were good hands.
Grade: B+