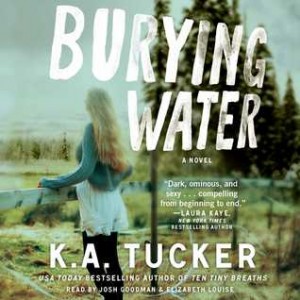 Why I read it:  One of my fellow reviewers at AudioGals recommended this one so I bought it.

What it's about: (from Goodreads)  The top-selling, beloved indie author of Ten Tiny Breaths returns with a new romance about a young woman who loses her memory—and the man who knows that the only way to protect her is to stay away.
Left for dead in the fields of rural Oregon, a young woman defies all odds and survives—but she awakens with no idea who she is, or what happened to her. Refusing to answer to "Jane Doe" for another day, the woman renames herself "Water" for the tiny, hidden marking on her body—the only clue to her past. Taken in by old Ginny Fitzgerald, a crotchety but kind lady living on a nearby horse farm, Water slowly begins building a new life. But as she attempts to piece together the fleeting slivers of her memory, more questions emerge: Who is the next-door neighbor, quietly toiling under the hood of his Barracuda? Why won't Ginny let him step foot on her property? And why does Water feel she recognizes him?
Twenty-four-year-old Jesse Welles doesn't know how long it will be before Water gets her memory back. For her sake, Jesse hopes the answer is never. He knows that she'll stay so much safer—and happier—that way. And that's why, as hard as it is, he needs to keep his distance. Because getting too close could flood her with realities better left buried.
The trouble is, water always seems to find its way to the surface.
Warning: Ahoy! Thar be spoilers. 
Trigger Warning:  Domestic violence, rape.
What worked for me (and what didn't):  I'm not quite sure what I was expecting when I started this book but I didn't think it was going to be an adultery book.  I probably should have realised that.  My bad.  I'm not big on the adultery trope.  I had mixed feelings about it here.  Alexandria Petrova is married to Victor Petrova a Russian mob type 20 years her senior.  While she married him willingly, I'm sure he did take advantage of her youth and circumstances (she was poor and only had her mother for family) in getting her consent to marriage. Victor is rich and he left her presents and dazzled her with the promise of plenty.   I gather that the marriage wasn't entirely awful at the start, but gradually Victor becomes more and more controlling and physically violent with her.