Monthly Mini Review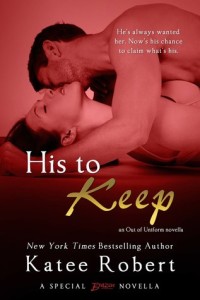 His To Keep by Katee Robert – C+ Aaron Robertson has had a crush on his sister's best friend for over 10 years. Marceline Bellini was off limits when they were young, then they were dating other people and then she fell pregnant, became a single mum and dropped out of the dating scene altogether. Her friends are encouraging her to live a little and not focus solely on being the perfect mother to her daughter, Claire. When Marcy finally agrees to go out with friends to a bar, Aaron decides it's time to make his move.  He has to do some sweet talking and fancy footwork to convince Marcy that he's a good bet. Marcy doesn't want Claire to see a revolving door of men come and go in her life (which, considering that Marcy hasn't dated at all since Claire was born, is something of an overreaction I think). Aaron is helped by the explosive sexual chemistry between he and Marcy.  He's also a good guy who has had deep feelings for Marcy for a long long time. He falls in love (in the paternal way) with Claire too and has no issue with taking them as a package deal.
The story is only novella length so there isn't a lot of time to develop the conflict and resolve it. I liked the characters and that they had known one another for a long time (and each secretly crushed on the other for that same time) helped me buy the HEA. I thought Marcy's cautiousness about dating was a little over the top but it was a sweet and sexy read with a good guy hero, so I'm not complaining. Also, at the time I downloaded it, it was free. Bonus.
Coming Soon
on Audio
Reviews of these books will be up soon at AudioGals.
Links
Here's what you may have missed:
Perfection by RL Mathewson, narrated by Fran Jules
Walk Through Fire by Kristen Ashley
Noble Satyr by Lucinda Brant, narrated by Alex Wyndham
Say Uncle by CM Steele

Cold-Hearted Rake by Lisa Kleypas, narrated by Mary Jane Wells
An Accidental Goddess by Linnea Sinclair, narrated by Amy Landon
The King's Man by Elizabeth Kingston, narrated by Nicholas Boulton
Edge of Danger by Katie Reus, narrated by Sophie Eastlake
The Single Undead Mom's Club by Molly Harper, narrated by Amanda Ronconi
My top audiobooks of 2015 will be up at AudioGals in the new year.

Shadow's End by Thea Harrison
With This Bling by LB Gregg
Broken Resolutions by Olivia Dade
The Perfect Gift by Serenity Woods
Magic Stars by Ilona Andrews
Her Kind of Man by Nona Raines
And my favourite reads of 2015 is up at Dear Author as well.  (Also, Dead Heat by Patricia Briggs needs to be added to that list. I read it in December 2014 but it's a 2015 book and it's brilliant).  And, in case anyone is wondering which is the book that I would not name at Dear Author that made my favourites list, it's Sacked by Jen Frederick. I didn't review it because conflict but it's excellent and I have no hesitation in recommending it to fans of Elle Kennedy, Kristen Callihan and Sarina Bowen.