Monthly Mini Review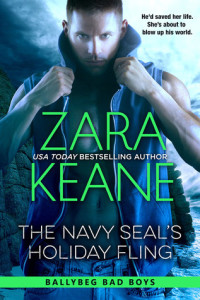 The Navy SEAL's Holiday Fling by Zara Keane – C+ While I have most of the Ballybeg series on my TBR, this one is the first of Ms. Keane's books I've actually read. It's book 3 in her Ballybeg Bad Boys spin-off series. Divorced former Navy SEAL Liam Ryan has been working undercover for Trident Securities in Ballybeg but his case has finished and he's on his way home to the USA for Christmas. He hasn't seen his four year old daughter, Meggie, in seven months and he misses her badly. However, when he is on the way to the airport, he gets a call from his boss; there has been a bomb threat from a terrorist known only as "The Ghost". The threat is credible and there is reason to think he might actually be in Ireland. Liam is the only person alive who has seen The Ghost; he's the only man who can identify him to police.
The Ghost is a morality terrorist. He targets adult stores and those who have used the services of prostitutes. His target this time is Blush Shoppe, a multinational adult store chain which has just opened in Ireland. As it happens, Liam knows the manager of the new Cork store, Jill Bekele. Jill and he met when he was undercover and had a brief fling. She is extremely surprised to find that the man she knew as Jean-Baptiste, a French chef, is actually a former SEAL from the States. She is initially very unhappy to see Liam but when he thwarts an attempt on her life, she decides maybe hearing him out is a good idea.
(Blush Shoppe's luxe product made me blush a little – they're made-to-order vibrators where the client gets a personal measurement of the distance between their vagina and clitoris done to the sex toy is the perfect size for that particular woman. I felt a bit sorry for the assistants who had to do the measuring frankly.  Anyway, I digress…)
Liam and Jill fall into bed again very quickly and the sex toys and their sexual creativity is on display. Because they knew each other, it made sense. But I can't say that I knew either of them very well and that remained the case throughout the novella. Jill makes a pretty big life change at the end of the novella and I thought it was pretty fast even in romance land.
I think some of the action was supposed to be slapstick – there were fire alarms being broken with huge dildos and and various sex toys being used as weapons but I struggled a little with the tone, which I read as more serious (especially because people actually die). I also thought that The Ghost wasn't a very good terrorist and it was a little unbelievable to me that he could have lasted so long in his chosen field.
That said, the story was entertaining enough and what I did know of Liam and Jill I liked. I'd have preferred to spend more time with them getting to know them and to have seen more of their courtship but the time I did spend with them was far from wasted.
Coming Soon
on Audio
Reviews of these books will be up soon at AudioGals.
Links