Monthly Mini Review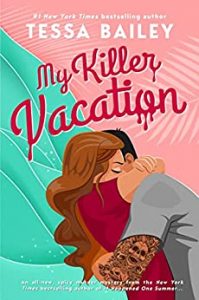 My Killer Vacation by Tessa Bailey – B+ Taylor Bassey is on vacation in Cape Cod with her beloved younger brother Jude. She's been saving up for years for a special vacation and has decided now's the time because her brother is struggling and she wants to cheer him up. Only, their fancy vacation rental contains suspicious peep holes looking into the main bedroom (ew). Oh, and also a corpse.  As it happens, the dead guy was the landlord. His sister's boyfriend has an ex-cop current-bounty hunter friend and asks him to investigate the murder in addition to the police. Myles Sumner, big, tattooed and badass therefore comes to town. He's not staying though. He's been running for the past three years from what he considers to be a mess-up in his job. It led him to quit the force, ghost his family and live a nomadic life. 
Myles: meet Taylor.
Taylor, an elementary school teacher, has always considered she's not very brave but after not totally freaking out when finding a dead body, she's decided maybe that's not true. And she takes an interest in the investigation too. Taylor, you see, is a big fan of true crime podcasts.
Myles and Taylor are instantly attracted to one another. It takes him a while but basically Myles is a complete goner from the minute he lays eyes on Taylor. Not gonna lie. I love this trope. I also love that Myles is instantly and extremely protective of Taylor but also putty in her hands. It's a potent mix.
There were many laugh out loud moments in the book for me and, as I've come to expect from this author, the sex (and the dirty talk) was scorching hot. Most of the story takes place over only five or so days but there's an epilogue two years later which embeds the HEA nicely.
A couple things: Taylor Bassey/Tessa Bailey? Also I didn't quite get why Taylor was so uber-protective of Jude. He's a capable adult but she treats him like he needs a lot of looking after. At times it was a bit too much.
But here's my big question. WHERE'S THE VIBRATOR??  Let me explain: After some very hot and very public sex in a parking lot (at night with no-one around) involving said vibrator, Myles removes it from inside Taylor and puts it on the roof of her car. (Let's just say that said vibrator was far more than damp.) There's more making out but then someone's heading their way and Taylor needs to go quickly. There's no further mention of the vibrator. What happened to it?  Was it still on the roof of the car? Did if fly off as Taylor drove away? Did someone find it???
The Case of the Mysteriously Missing Sex Toy aka My Killer Vacation was nonetheless a lot of fun. Grumpy/sunshine, hero totally gone from the beginning, loads of humour and lots of steam all equals win.
Links