Monthly Mini Review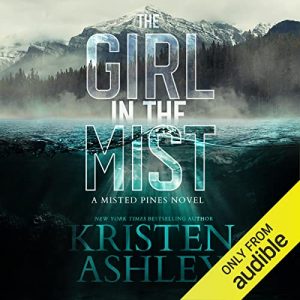 The Girl in the Mist by Kristen Ashley, narrated by Hillary Huber – C Given that under the title is the subheading "A Misted Pines Novel" I assume that this is the first in a new series. Set in the fictional town of Misted Pines in Washington State but otherwise in the same universe as her other contemporary books (Hawk Delgado, Lee Nightingale and Joe Callahan, among others, all have cameos), the story is about a famous actress-turned-author, Delphine LaRue, who moves to the town to get away from a stalker who has kidnapped and raped at least two women and who has committed other crimes against Delphine's former costars. She buys a house on the lake and has excellent security installed and is being monitored by the FBI and Hawk Delgado.
The closest house to hers belongs to Cade Bohannan and his adult twin sons and his teenaged, daughter.
Both Delphine and Cade are in their early 50s which I liked very much. The romance which develops between them is pretty much lacking in any kind of conflict. They are mutually attracted and while there is a bit of a slow burn, there is nothing keeping them apart and they resolve any potential conflicts very easily and straightforwardly.
(some spoilers follow).
Curiously, given the reason Delphine is in town at all, the stalker plot goes exactly nowhere, with the perpetrator being caught fairly early. No, the suspense story comes from a missing 8-year-old and further crimes which follow from there.  Exactly who the "girl in the mist" is I'm unclear on. At first I thought it was Celeste. Bohannan's daughter (the MCs refer to one another as Bohannan and LaRue most of the time) but she did not have any part to play in the suspense of the book so… [insert shrug emoji here].
I had some difficulty with the suspense plot. I've already spoiled some things so I won't be too specific but it involves what I considered to be very not-great representation of a certain section of the queer community.  While there is quite a bit of sex positivity and some positive queer rep (one of Delphine's two daughters is a lesbian) a certain section of the community gets very short shrift. I think, apart from anything else, that the representation was misconstrued but given how the book resolved, the overall portrayal was poor.  I say this as a cis heterosexual woman but I'm pretty confident on this view.
The narration was very good and I liked Bohannan and Delphine well enough and those things got the grade as high as it is – which probably says quite a bit about how I felt about the suspense plot. I had some general distaste for some elements of the plot and I thought quite a bit of it was gratuitous and/or unnecessarily violent (particularly the stalker plot – which, as I've said, went nowhere). In terms of actual tension, some of the Colorado Mountain series are more tense than this one so calling this book a "romantic thriller" felt like a bit of a stretch to me.
BUY IT:
AMAZON


Coming Soon on Audio
Reviews of these books will be up soon at AudioGals.
Links