Monthly Mini Review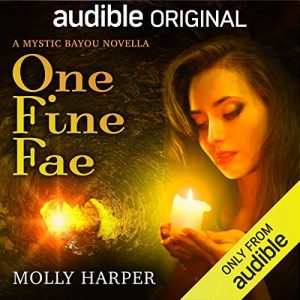 One Fine Fae by Molly Harper, narrated by Amanda Ronconi & Jonathan Davis – B- I listened to the most recent full length book in this series recently, Shifters in the Night, and realised I'd missed this novella where Jillian and Bael's baby is born. So I backtracked, naturally. Charlotte is a fae-human midwife who uses her magic to bless the babies she assists into the world. Leonard is the hapless assistant to Sonya and Jillian at the League, living under a longstanding family curse which makes him clumsy when stressed. The more stressed he is, the more clumsy.  Charlotte is instantly drawn to the sweet-natured Leonard and discovers that she may be able to break the curse.
And, of course, Jillian's baby arrives. Given she is carrying a "giant metal egg" inside her I was interested in how she was going to manage quite apart from just wanting to listen to how the happy event occurs for Jillian and Bael's benefit.
One Fine Fae is novella-length and does not have a suspense plot like the other books. I kept waiting for it but it never arrived.
The beginning of Leonard and Charlotte's romance is delightful but then we are suddenly skipping to the HEA and I wasn't ready for it. This book could easily have been full length, adding in a suspense plot (the ingredients were all there but never realised) and fleshing out the romance. What there was was fun but there wasn't enough of it to be as satisfied as I normally would be by a Mystic Bayou book.
The narration is, as usual, fantastic and that certainly helped my enjoyment of the story. I enjoy the wider cast of characters, most especially Zed, and the way Jonathan Davis gives him voice is superb. Amanda Ronconi is a favourite narrator and both performers do an excellent job with the humour of the tale. It's certainly worth listening to but the wrap up at the end seemed abrupt and needed a little more to really deliver on its early promise.
One Fine Fae is part of the Audible Plus catalogue – Audible members can listen for free.
BUY IT:
AMAZON
Coming Soon on Audio
Reviews of these books will be up soon at AudioGals.
Links