Monthly (not so) Mini Review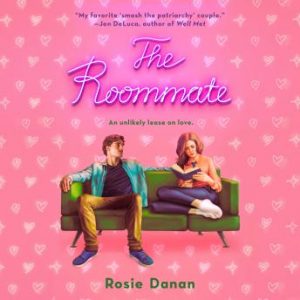 The Roommate by Rosie Danan, narrated by Teddy Hamilton & Brittany Pressley – B+ 
It's often the case that I find it easier to get to an audiobook on my TBL than a digital book on my TBR. My TBL is considerably smaller and I have not, fortunately, had the listening slump that has impacted my reading in the last few months. Teddy Hamilton is one of my favourite narrators and I've had good experience before with Brittany Pressley also so it was an easy choice to load this book onto my iPod and get it in my earholes.
Clara Wheaton moves from New York to LA, to share a house with her longtime crush and lifelong friend, Everett Bloom. She's from a wealthy family and was raised to always do the right thing and avoid any scandals. It isn't particularly well documented in the book, the there are allusions to a number of significant scandals associated with the male members of the Wheaton family which they sailed through just fine with big donations and the like but for Clara, she's got to be perfect. Partly it's to please her mother who has been disappointed by so many other people in the family and partly it's because Clara is a people-pleaser. Mostly the former. But moving to LA has definitely shaken things up. She's disappointed her mother and she's operating with a clear plan (checklist for her new digs notwithstanding). This is finally her chance to get Everett to really notice her.
Except Everett announces that he's going on tour with his band and he's subject his room in the house out to a "nice guy from Craig's List". He doesn't even accompany Clara into the house before he takes off for the summer.
Enter, Josh Conners, aka Josh Darling, the porn star who is her new housemate. He's hot and charming, cocky and kind. They become friends and then, later, more.
Clara has a large trust fund and when Josh is trying to identify opportunities that don't breach his draconian contract with "Black Hat Productions" she sponsors a website which promotes female pleasure in an explicit and educational way. (It takes a while of friendship-building to get to that part.)
I know very little about the porn industry. I've listened to the Jon Ronson podcast The Last Days of August and I used to be a regular listener of the Savage Lovecast. I watched a Louis Theroux documentary about the industry some time ago. But, that's about it really. I know from the author's note that she was assisted in her research by at least one industry insider and I know that she clearly wanted to show a healthy and positive side to porn, while acknowledging (at least some) of its issues. Still, I think there's a fairly large suspension of disbelief needed to go along with the entire story. I was able to manage here because I was enjoying it so much but I don't mistake it for an entirely accurate depiction, particularly when it comes to every one having all the orgasms. Isn't is often just acting??
There was one thing right at the end which felt a little like a copout but also, it was not unexpected. Still, I would have liked to understand how Josh could go from having sex multiple times a day on camera to not, to being monogamous with Clara in their HEA. This book does not explore how a porn star can be in a monogamous relationship with someone while still working actively in the industry (I don't think that's necessarily "cheating" if it's acting/work but YMMV.).
The other thing I'll mention is that despite the provocative suggestion of the premise, this isn't an erotic romance. There's sex yes, but about what you'd expect in a mid-range steamy contemporary. Just because there's reference to porn doesn't mean there's a lot of explicit content.
It's a fantasy and a fairytale in many ways – but then, that's romance so I don't judge it harshly. It's not a non-fiction book designed to educate. I enjoyed it very much, even with the necessary suspension of disbelief required and even with my couple of questions at the end of just how the HEA was going to work out over the longer term. The narration was excellent from both narrators – honestly Teddy Hamilton has such a smooth sexy voice – it's like audible honey. Brittany Pressley perfectly depicted how uptight Clara was and her gradual relaxation into being comfortable with herself and who she is and wants to be. Both narrators delivered when it comes to emotion, characterisation and pacing.
There was a bit of handwaving about the acceptance level of Clara's family at the end and some of Clara's decisions seemed more about advancing the plot than organic but overall, I enjoyed The Roommate very much. I'm very curious to read (or listen) to The Intimacy Experiment which is the second book in the series (and only Rosie Danan's second book), out in April this year.
BUY IT:
AMAZON

Coming Soon on Audio
Reviews of these books will be up soon at AudioGals.
Links